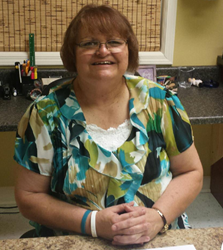 Dr. Michael Steuer is like a fine wine - he just keeps getting better with age.
(PRWEB) October 22, 2014
Last month marked the 13th anniversary of Dr. Michael Steuer's working with Connie Fincher, the data entry billing staff member at MidSouth Pain Treatment Center. When Michael Steuer opened his practice in 1999, he began working with a staff of two, and one of those staff members was himelf! The other was a billing clerk who knew Connie well, and when Michael Steuer's practice began to grow large enough to support a second billing person, Connie was highly recommended to fill that void. Unfortunately, Connie had just begun working with another company just prior to Michael Steuer's invitation to hire her. But it didn't take long before Michael Steuer received the fateful phone call from Connie that she was indeed available to come work with him.
Dr. Michael Steuer was delighted because he had heard such great things about Connie, and having a strong billing staff is critical for the success of any company. He recalls, "When I first met Connie, she was an extremely pleasant, knowledgeable person, and I was looking forward to having her augment our then, tiny billing department. How could I have known that she'd still be with me thirteen years later?"
Over the course of time, Mrs. Fincher and Michael Steuer have gotten to know each other very well. "My pre-teen girls would come to the office back then, and Connie always made them feel at home. She was a constant in their lives, just as she has been in mine. She attended the occasions of their Bat Mitzvah, the coming of age for Jewish girls at age 13, and the receptions that followed with my friends and family," says Michael Steuer. "We would get together and go to Memphis River Kings games, and Connie was often there with my girls," recalls Steuer.
"Dr. Michael Steuer is like a fine wine," says Connie. "He just keeps getting better with time." Michael Steuer takes pride in fostering a work environment in which people truly enjoy going to work every day. "I have always considered my staff to be an extension of my family, no matter whether it was just Connie and me back then, or all 90 of us now," says Steuer.
"I've told Michael Steuer this before. It was very important to me that Dr. Steuer took a chance on me back in September, 2001. And I'm so glad that he did, because it's so rewarding to me to be part of his destiny in the success of our pain management practice," says Mrs. Fincher. "I have met some wonderful people along the way, both patients and co-workers. Michael Steuer used to tell me that it was his dream to grow a practice with several physician associates and to eventually semi-retire by the time he made it to his mid-fifties. I'm so glad I've been part of the ride, and I'm so proud of him and the business he's built," says Connie. "Michael Steuer can truly say that he has helped a lot of people in pain."