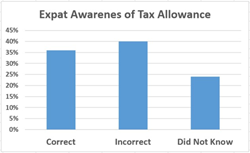 The best ways of utilizing their savings is to buy a good investment property in a secure country such as their own country – the UK.
UK, Lancashire (PRWEB UK) 29 September 2014
Find UK Property conducts regular surveys on expats who are looking to buy or have purchased property in the UK. A recent survey conducted in early September 2014 asked about awareness of the fact that they have a personal allowance. The UK currently allows expats and residents of many other countries to claim a tax-free personal allowance which in the current year is £10,000 and is increasing to £10,500 next year. Whilst there has been debate on if this allowance should be amended or restricted, it is still in force and likely to remain so in most cases.
However our survey noted that most expats were not aware of this fact. In response to the questions "Would you have to pay UK tax if you had rental income of £10,000 with no other UK income?"
Only 36% knew that no tax would be payable.
64% incorrectly said yes, or did not know.
Andy Noble, Senior Marketing Consultant at Find UK Property said "many expats work hard overseas to generate savings which often just sit in bank accounts depreciating in real value. One of the best ways of utilizing their funds is to buy a good investment property in a secure country such as their own country – the UK. With an investment of just £55,000 they could purchase a 2-bed house that would generate over £4,200 income tax free as well as growing in capital value."
About "Find UK Property"
Find UK Property are the 'buyers' agent and specialize in helping serious overseas buyers find the most suitable investment property for their needs. The company conducts regular surveys on overseas investors and findings are printed at their "UK Property News" Blog at http://blog.findukproperty.com.
The most popular purchase are the fully managed low cost houses in the price range of £55,000 to £70,000 that come with full management, repair guarantees, and guaranteed rent. Many clients are seasoned investors who may have purchased investment property in other countries via sister companies Openshore Property and Sandcastles based in Dubai. Further details can be found on the Find UK sales website at http://www.findukproperty.com
Most overseas investors spend their rental income in the UK rather than remitting it abroad. The positive effects on the UK economy of such property investment is not appreciated.