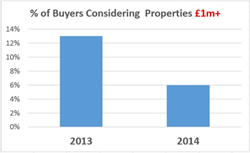 The main factor driving lower cost property sales is in fact higher rental yield rather than fear of Mansion Tax.
UK, Lancashire (PRWEB UK) 30 September 2014
Find UK Property conducts regular surveys on expats who are looking to buy or have purchased property in the UK. A recent survey conducted in late September 2014 showed that rumours of a Mansion Tax (that is supported by both Liberal Democrats and Labour) is already influencing their property decisions.
The Mansion Tax may end up being an annual tax levied on properties with very high values such as over £2 million. The exact details of the tax have not been finalized by the political parties. The conservatives are unlikely to be in favour of such a wealth tax.
The survey showed that the percentage of clients looking at properties over £1m has fallen from a previous survey figure of 13% in a similar survey done in 2013 to just 5%. The top 2 reasons being given were lower yield on more expensive properties and the possibility of an annual mansion tax on high value properties.
Andy Noble, Senior Marketing Consultant at Find UK Property said "The main factor driving lower cost property sales is in fact rental yield, however talk of a tax on high value properties does help this trend".
About "Find UK Property" Find UK Property are the 'buyers' agent and specialize in helping serious overseas buyers find the most suitable investment property for their needs. The company conducts regular surveys on overseas investors and findings are printed at their "UK Property News" Blog at http://blog.findukproperty.com.
The most popular purchase are the fully managed low cost houses in the price range of £55,000 to £70,000 that come with full management, repair guarantees, and guaranteed rent. Many clients are seasoned investors who may have purchased investment property in other countries via sister companies Openshore Property and Sandcastles based in Dubai. Further details can be found on the Find UK sales website at http://www.findukproperty.com