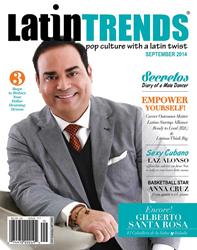 (PRWEB) September 27, 2014
Santa Rosa tells LatinTRENDS how he and fellow singer/song writer, Victor Manuelle found renewed spirit to honor their dear friend after his passing. Playing his newest role, Santa Rosa also talks to LatinTRENDS about his banner year as a remarried man and a grandfather.
Also in this issue, Laz Alonso of the new NBC television series "Mysteries of Laura" says the biggest thrill about his character, Billy Soto, is that he brings the Latin flavor of renowned spots in NYC like Uptown, La Marina and Dykman. Alonso takes this time to dish on the Lebron James move to the Cleveland Caveliers, being a sex symbol and he gives the guys advice on what not to do when coming on to a lady.
Mirtha Michelle Castro Marmol has all the Hollywood starlets from Kendall Jenner to Selena Gomez reading her steamy new memoir "Letters, to the Men I Have Loved." Here, she talks about Paris, love and her emotional journey into womanhood. Our entertainment section also includes an interview with "Devious Maid's" Dania Ramirez and chart-topping new music artist Optimo.
Million Dollar Listing's Luis Ortiz, one of Bravo's most exciting personalities, tell us how he got his start in the real estate business. Ortiz also shares his expertise telling readers how to find million dollar homes in New York. This issue also includes an interview with Anthony Mendez, the inner voice of hot new actress Gina Rodriguez's character in the CW television network's series premiering this fall "Jane the Virgin."
LatinTRENDS was also privy to a few secrets this month—secrets of a male dancer in NYC. The stripper, who goes by the name Joey, dishes on how much his fellow dancers earn, how they maintain relationships outside of work and what makes a great dancer.
And the iConomy section, LatinTRENDS tells you how to stop your dollar-draining drama and other bad behavior that keeps you from getting wealthy. See interviews with business innovators helping Latinos take it to the next level.
The health section highlights inspirational celebrities who have battled health scares and emerged victorious. Also see our story on how to get what you want by using the power of your mind.
For more information, please contact Maria Luna at (212) 852-6164 or via email at mluna(at)latintrends.com