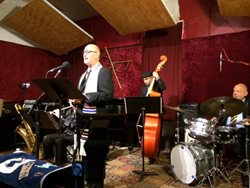 "I was blown away by the holy force of the familiar chants when they are powered by creative jazz arrangements – alternately blazing with vitality and coolly sweet as a fresh crisp apple dipped in honey. A splendid Rosh Hashana!" -Nova Scotia Barbara
New York, NY (PRWEB) October 01, 2014
"We couldn't be more pleased with the response to our Jazz High Holiday services thus far," said Rabbi Steve Blane, founder of Sim Shalom. "The congregants and the music have combined to add a special dimension to our worship."
The Holiday musical ensemble includes Rabbi and Cantor Blane on vocals, Tal Ronen and Yoshi Waki on bass, Jack Glottman on piano, Carol Sudhalter on flute and saxophone, Itai Kris on flute, Frank Levitano on piano and guest guitarist Saul Rubin.
The two Rosh Hashana services at Zeb's included four Jewish Spiritual Leaders' Institute – trained Rabbis. One attended from Canada while three others logged in from Colorado, Texas and Florida. One of Sim Shalom's converts attended live, visiting from Germany, and others joined in online. Broadcast globally, Sim Shalom had attendees from North America and Europe who value the annual melding of ancient faith and contemporary music. Watch the Rosh Hashana morning service here.
"The rhythms of jazz and Jewish sacred music share a certain sense of spontaneity – as well as an abiding spiritual quest," said Rabbi Blane. "That complementary quality lends these services their own singular style and joy."
Zeb's is located on the second floor at 223 W. 28th Street, between Seventh and Eighth Avenues in Manhattan.*
Three Yom Kippur services/performances will be offered. Seats are filling fast but as always with Sim Shalom you have the opportunity to "attend" a service as we will be broadcasting live from New York.
For tickets visit here.
Click here to join us.
Kol Nidre, October 3rd at 7:30pm; Yom Kippur morning, October 4th at 10:30am; Ne'elah, October 4th at 5:00pm.
*Please note: the Services will be held in a loft on the Second Floor, and there is a 21-step climb. There are two restrooms available.
ABOUT SIM SHALOM
Sim Shalom is an interactive online Jewish Universalist synagogue which is liberal in thought and traditional in liturgy. Created in 2009 by Rabbi Steven Blane on Manhattan's Upper West Side, Sim Shalom offers a means of connecting the unconnected. Rabbi Blane leads accessible and short Kabbalt Shabbat services every Friday night using a virtual interface and additionally Sim Shalom provides online education programs, jazz concerts, conversion and life-cycle ceremonies along with weeknight services at 7:00PM EST led by Rabbis and students of this online community.
Rabbi Blane is also the founder and director of the Jewish Spiritual Leader's Institute, http://www.jsli.net. the rabbinical school of Sim Shalom that provides semicha to Jewish professionals.
Sim Shalom, a non profit 501 © (3) tax-exempt organization, nurtures a Jewish connection through its mission of innovative services, creative education and dynamic outreach to the global community. To contact Sim Shalom email info(at)simshalom(dot)com or call 201-338-0165.