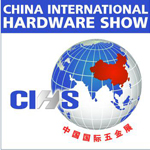 Zhengzhou, China (PRWEB) September 27, 2014
According to iAbrasive report, the China International Hardware Show that attracted the attention of millions was held successfully from Sept. 18 to Sept. 20, 2014 in Shanghai New International Expo Center.
This year the China International Hardware Show was separated from the CIKB. 2,680 renowned companies and industrial bases from 24 provinces, cities, and autonomous regions in China attended the show. The exhibitors have increased 20% in quantity. Besides that, international exhibitors from Germany, Italy, America, Japan, Korea, India, and Taiwan came in large numbers. The grand occasion indicates that China's hardware market is faced with globally competition.
The striking features of CIHS 2014 were focused on positioning: mid-to-high market, internationalization, refined investment attracting services, providing value-added services for exhibitors, building up brand for the exhibition and the industry. The specific features are listed below:
1. Targeting at Mid-to-High Market
Among the 2,600 exhibitors domestically, 90% are key enterprises within the industry. They brought in the most advanced technologies and superior products that represented the mid-to-high level of Chinese manufacturers.
2. High Internationalization
Seen from the global hardware manufacturing industry layout, represented by Germany manufacturing level, nearly 120 international brands attended the show. They regarded China as the most potential market.
3. Sparing No Expense to Enhance Investment Promotion
CIHS 2014 was consistently devoted to increasing the quantity and quality of professional visitors. Besides that, the sponsors made great efforts in exhibition propaganda, investment promotion events, interviews, WeChat public flat, exhibition activities, etc.
4. Improving Service Standards & Exhibition Connotation
CIHS 2014 adopted the most advanced smart technology audience registration method to guarantee the accuracy of exhibitors' quantity. Meanwhile, professional exhibition halls and relevant supporting activities were newly added to the show in accordance with the purpose of communication.
5. Pushing Brand Enterprises
As Asia's top trade fair for the entire hardware and DIY sectors, CIHS has enjoyed great popularity both in China and abroad. CIHS has become a signboard in the exhibition industry. While the show attracts brand advantages, it has made great efforts in guiding the direction of the exhibitors, facilitating self-independent hardware brands going global.
Author: Liwei Chu
Copyright: iAbrasive.com--Abrasives & Diamond Tools Market