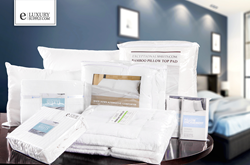 We have ​worked with Amazon for quite some time now and we jumped at the chance to work with them on such a great giveaway for their fans and our customers​
Evansville, IN (PRWEB) September 27, 2014
Online luxury bedding retailer eLuxurySupply, in conjunction with Amazon.com, is proud to announce ​their largest Facebook giveaway to date. One Facebook fan will win a ​free makeover for their bedroom and bathroom​ valued at just under $500​.​ ​ To enter to win, fans ​must "Like" Amazon's Facebook page​ and comment on the post with their bed size.​ ​​
The products included in the giveaway consist of one of ​eLuxurySupply's Extra Plush Bamboo Fitted Mattress Toppers, a 400 thread count Egyptian Cotton duvet cover, one set of Ultra Soft Bamboo Sheets, a 6 piece set of Egyptian Cotton 900 GSM Towels, a ​W​hite ​D​own ​A​lternative ​C​omforter/​D​uvet, two Down Alternative Hypoallergenic ​Pillows and a set of Pillow Encasements.
"We have ​worked with Amazon for quite some time now and we jumped at the chance to work with them on such a great giveaway for their fans and our customers​," said ​Kyle Schmidt, E-Commerce Manager at eLuxurySupply.
​​​​The contest will be launched on the morning of Saturday, September 27 ​at 7 a.m. PST and will run for 24 hours. ​
About eLuxurySupply.com
eLuxurySupply.com is a United States Veteran Owned and Operated company based in Evansville, Indiana that is quickly becoming one of the internet's most trusted and successful luxury superstores. eLuxurySupply is a Sam Tucker LLC owned and operated business and for any questions, comments or concerns, please call 1-800-977-7433 or email service(at)eLuxurySupply(dot)com.