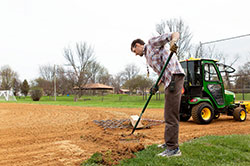 Jackson, MS (PRWEB) September 30, 2014
Forestry Suppliers Inc., a leading distributor of Motorola two-way radios, and other outdoor gear, releases a statement on park and wilderness safety for outdoor staff. As fall approaches, unique safety and weather considerations develop, and Forestry Suppliers wishes outdoor employees a safe autumn season.
The first step for a safe day in the field involves coming prepared with the right supplies. Even as the weather cools, staying hydrated is still essential. Outdoor workers should bring water for themselves and their staff. In addition, the proper safety gear is necessary. Closed-toe shoes or steel-toe boots, long pants, hats, rain ponchos, and other gear can help protect against the elements and hazards along the ground and through trails. To protect against skin cancer and the many mosquito-borne illnesses, including Lyme disease and West Nile virus, always remember to wear adequate sunscreen and insect repellent. A first-aid kit is another must-have for any outdoor safety toolkit.
An active awareness of surroundings is crucial for any safety worker. External threats can include wildlife, prickly or poisonous flora, holes and slippery ground conditions, as well as a human element. As fall approaches, so does peak hunting season and other outdoor activities such as hiking and biking. To avoid accidents with recreation seekers, outdoor workers should wear bright clothing so others can easily identify them. Outdoor staff should avoid wearing headphones while working so that they can remain aware of their surroundings and avoid potential danger.
Essential to any outdoor operation in which workers may separate is the access to constant communication. Any workers going out of sight should keep at least one partner aware of their whereabouts. Two-way radios are an easy way to stay in touch instantly, even in the absence of cell phone towers or other communications. Radio users can schedule regular group check-ins, for instance every half hour, to keep in touch. Two-way radios can also monitor weather alert broadcast systems for sudden weather changes and other elements. For example, the eight-channel Motorola RM Series business radios feature one channel preset to NOAA weather radio frequencies. As fall weather can change very rapidly, it's important to monitor for these changes.
Finally, workers should properly clean up and secure work areas when leaving for the day. This includes securing valuable equipment, storing hazardous materials in safe locations, and sweeping the area for fire hazards or loose materials.
With these tips, outdoor workers can continue to perform their job duties safely and reduce the risk of accidents.
About Forestry Suppliers:
Forestry Suppliers, Inc. is a worldwide supplier and distributor of general-use and specialty products and equipment for natural resource professionals. Their annual catalog and website contain a complete selection for a wide range of outdoor industries, including forestry, agriculture, arboriculture, landscaping, horticulture, grounds maintenance, surveying, engineering, remote sensing, vegetation management, construction, home inspection, utilities, wild land firefighting, geology and mining, archaeology, anthropology, parks and recreation, golf courses, wildlife management, fisheries and aquaculture, earth science education, environmental engineering, hazmat, and remediation.
Founded in 1949 by Jim Craig, former Mississippi State Forester, Forestry Suppliers, Inc. maintains a distribution warehouse and administrative headquarters in Jackson, Mississippi. For more information about Forestry Suppliers, visit them online at http://www.forestry-suppliers.com.
Forestry Suppliers is a Motorola authorized business two-way radio reseller offering RM Series, RDX Series, CLS Series business radios, and other models. They have carried Motorola products for more than 30 years.
MOTOROLA, MOTO, MOTOROLA SOLUTIONS and the Stylized M logo are trademarks of Motorola Trademark Holdings, LLC and are used under license. All other trademarks are the property of their respective owners. © 2014 Motorola Solutions, Inc. All rights reserved.