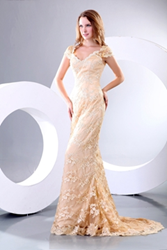 (PRWEB) September 29, 2014
Recently, Fancyflyingfox.com, a leading online supplier of wedding dresses and women's special occasion outfits, has introduced its new range of 2014 vintage prom dresses. In addition, the new items are all available at low prices, from 15 to 68 percent off. Clients who are interested in the company's elegant vintage prom gowns should visit its website before October 12.
Fancyflyingfox.com is providing thousands of beautiful products in its online store. The company wants to offer the most fabulous special occasion gowns for worldwide women. Its brand new vintage prom dresses are offered in many popular colors; they feature unique designs, neat cuts, elegant looks, and individuality. All of them are made by experienced workers.
"We are very happy to announce the new assortment of vintage prom gowns and launch the current sale. I have confidence in the new products, because most of our customers are happy with what they get. All of them are made from the best quality materials. Ladies who want to buy cheap vintage prom outfits can visit our online shop now," the company's development manager says.
Actually, Fancyflyingfox.com is very famous for its excellent special occasion gowns at cost-effective rates. The company strives to make its website the best platform for the global clients to buy trendy and cheap outfits.
About Fancyflyingfox.com
Fancyflyingfox.com is the leading online retailer for wedding gowns, special event dresses, wedding party dresses, and accessories. Ladies will find a massive range of high-quality wedding dresses, evening/prom gowns, flower girl dresses and more. Fancyflyingfox.com provides hundreds of dedicated items for global buyers. Now, it is offering thousands of cheap items.
For more details about the company and its dresses, readers can visit http://www.fancyflyingfox.com/vintage-prom-dresses-c26/.