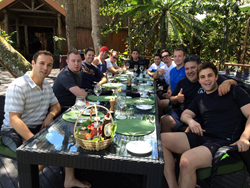 That day represented something much greater than a different kind of bachelor party; it represented a different kind of man, one who is as comfortable with his feelings as he is with his strength.
San Diego, CA (PRWEB) October 02, 2014
Since childhood, Ryan Moalemi has felt a deep connection between himself as an individual and humanity. He's made every wrong decision trying to evade his destiny but alas, the connection has endured. For the past seven years, Ryan been tending to a rather painful process of self-exploration that has greatly deepened his capacity to love others.
His own personal process, along with a traditional education in psychology from Penn State University—where he finished at the top of his class—come together to form a process that is as dynamic as he is. Ryan is known by his colleagues and clients as an intelligent, intuitive, highly competent guide into the realm of human achievement, and he possesses the experience and the tools to guide others into facing and healing whatever is in the way of their happiness.
Ryan has been learning, teaching and working with individuals and groups for nearly a decade, in addition to running several successful companies with combined revenues of over $50 million dollars. Drawing from a wide range of psychological schools of thought, Ryan blends education, empathy and entertainment in his proven-process that has been used successfully to help people create massive positive change and reinvent their lives.
Growth-minded individuals, couples and companies looking to breakthrough old patterns to create permanent, positive change will have a rare opportunity to work directly with Ryan, beginning October 2, 2014 until December 15, 2014. He is also offering 30, 60 and 90 day personal, professional and relationship intensive programs at his San Diego office location.
Please visit http://www.ryanmoalemi.com for more information on Ryan Moalemi's exciting work.