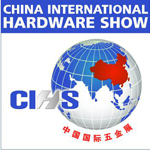 Zhengzhou, China (PRWEB) September 28, 2014
According to iAbrasive, the three-day China International Hardware Show (CIHS) 2014 was held on Sept. 18. As the only e-commerce platform in China that specializes in the abrasives industry, iAbrasive has attended the show.
The three-day China International Hardware Show (CIHS) 2014 was held on Sept. 18. Co-sponsored by China National Hardware Association, China Hardware and Electromechanical Chamber of Commerce (CHEC), and International hardware Fair Cologne, CIHS 2014 attracted numerous hardware companies to attend. As the only e-commerce platform in China that specializes in the abrasives industry, iAbrasive has attended the show together with the China Coated Abrasives Association.
According to statistics, there were about 120 abrasives companies attending the show. Their products almost covered the entire abrasive products in the hardware industry. To know more about the current situation of China's abrasives foreign trade, an iAbrasive reporter interviewed some of the abrasives companies.
The staff of Changzhou Kingcattle were dressed in blue uniforms. They said, "Kingcattle has enjoyed a good public praise in the market. The main purpose to attend the exhibition is to enhance our brand influence, extend foreign trade market, and go global."
Shandong Dongtai Abrasives has attended the CIHS 2014 and the KOFAS 2014. Besides that, Dongtai also planned to attended an exhibition in India. Dongtai's working staff revealed that although attending exhibitions will consume time and energy, the exhibition was of great help because it could help companies leave a deep impression on the purchasers who could see the company's products face to face.
The booth of Dongguan Yuda was crowded with visitors. Its upgraded version of automatic flap disc machine was launched. Compared with semi automatic flap disc machine, the upgraded version of full automatic machine is a great innovation that combines technological and economic performances. During the show, there was a continuous stream of visitors at Yuda's booth. As soon as the automatic flap disc machine began operation, the crowd was fascinated. Many foreign purchasers were also interested in the machine. As one of iAbrasive's Gold Members, Yuda has received assistance from iAbrasive that also attended the show. iAbrasive had also helped Yuda in interpreting company's products to foreign businessmen from Turkey, Portuguese, Iran, etc, which showed great interest in Yuda's products. iAbrasive staff also exchanged business cards with foreign businessmen.
After that, iAbrasive reporters also had some contact with some renowned abrasives companies in China, such as Henan Wangpai Abrasive Cloth Manufacturing Co., Ltd. and Shanghai Fermi, learning about their opinion on developing foreign trade via exhibitions. Wangpai Abrasive Cloth revealed that at present, the competition in the abrasives market is fierce and many peers wanted to seize the market by export. Wangpai has tried numerous approaches, including exhibitions and comprehensive e-commerce platforms; the effect was barely satisfactory. So a new approach has to be found to make new breakthroughs. The situation of Shanghai Fermi is the other way round. Fermi is an agent of many renowned international brands and it has production capability. Fermi has set foot in foreign trade earlier, so its business is relatively smooth.
After they made deep contact with the abrasives companies, iAbrasive reporters have found that with time moving on, the abrasives companies are adjusting their foreign trade strategy. In the past, many abrasives companies thought that the exhibition was a big information database. The exhibitors and visitors could communicate with one another and contact with foreign traders. However, in recent years, the developing of the Internet has provided many channels for the spread of information, domestic manufacturers can easily communicate with overseas purchasers via the Internet. Some abrasives companies in China have already benefited a lot from online foreign trade.
Nowadays, while exhibitions remain a effective way to increase company exposure and enhance brand awareness, more and more abrasives companies choose to take advantage of the Internet, such as joining in some e-commerce platforms, comprehensive ones or vertical ones, or set up website independently to make use of the massive amount of information to rank top in foreign trade.