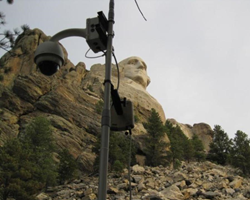 Using SpotterRF compact radar is like putting a GPS tracker on moving threats
Salt Lake City, UT and Atlanta, GA, ASIS (PRWEB) September 29, 2014
The National Park Service today announces that it is using SpotterRF Compact Radar as a key component of its perimeter protection efforts at Mount Rushmore National Memorial in South Dakota. This national memorial receives three million visitors each year. Protecting park guests and preventing damage to the mountain sculpture is a top priority. Mount Rushmore's unique combination of wide open spaces and rough terrain make it a good fit for SpotterRF's wide area surveillance strengths, ruggedness and durability.
"Mount Rushmore is a national treasure and visitors rely on us to make it a safe place to visit," states Don Hart, Chief Ranger at Mount Rushmore. "We are always on the lookout for the best security advances specialized for the rugged landscape of this unique park and have tried many that have not been able to survive the harsh conditions we have here. Since last year we have deployed SpotterRF units and they just keep on working through the toughest conditions."
Unlike most U.S. public memorials, Mount Rushmore covers more than 1,200 acres that require constant monitoring. SpotterRF radar amplifies the effectiveness of existing systems for a cost effective increase in park security.
"We all enjoy the wonders of our National Parks like Mount Rushmore and we expect to be safe when we visit," states Logan Harris, CEO for SpotterRF. "Using SpotterRF compact radar is like putting a GPS tracker on moving threats. It then automatically cues cameras and alerts park personnel allowing them to cover more ground, increase security and multiply security forces without adding headcount."
With the advent of Compact Surveillance Radar, radar's wide area coverage is affordable for commercial environments like protecting substations, oil & gas fields, borders, electrical power plants, bridges, and dams. SpotterRF radar units come in five sizes, weigh as little as 1.5 lbs. each, use less energy than a light bulb (just 8W each), and need only a web browser to setup. Integration with existing IR cameras, video analytics, or other Intrusion Detection System (IDS) greatly reduces costs and increases effectiveness for protecting critical infrastructure such as embassies or national parks.
About SpotterRF
SpotterRF provides the world's most advanced compact surveillance radar (CSR) system for perimeter security and Protection Beyond the Fence. Made in the USA and engineered for extreme conditions, SpotterRF technology is the most compact, lightweight, energy efficient, and cost­effective radar for perimeter security requirements. For a data sheet, visit http://spotterrf.com/press.html.