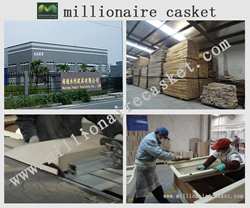 (PRWEB) September 28, 2014
MillionaireCasket.com, a famous Chinese casket manufacturer and retailer, has announced its new collection of mahogany caskets. Each casket in this range is made of high quality materials. Now, all of them are available at discounted prices, up to 35% off, until October 20, 2014.
"We are very proud to launch the special offer. We want to make our products available to more customers from around the world. Our mahogany caskets have a good market performance, so we have confidence in this new collection," the CEO of the company says.
According to the CEO of the company, the new mahogany caskets are built in many different sizes. The company also accepts custom made items. The products from the company are becoming more and more popular in the global market. The website has been updated and the sales staffs online are always ready to provide clients with more detailed information about the products' specification, construction, exterior fittings and interior.
The company has been specializing in various types of caskets for a long time. Its major products include wood and metal caskets. It is a great casket wholesale retailer that offers high quality products at very affordable prices. The company has gained a great reputation in the industry. Along with caskets, it also sells funeral related products like church trucks, stretchers, body bags and urns.
About MillionaireCasket.com
MillionaireCasket.com is a leading casket company based in China. It focuses on the business of casket wholesale. It offers an exquisitely crafted line of all kinds of metal caskets, solid oak caskets, veneer caskets, cremation caskets, rental caskets, orthodox caskets, infant or over-sized caskets and European style coffins.
For more detailed information, readers can visit: http://www.millionairecasket.com/70-mahogany-caskets.