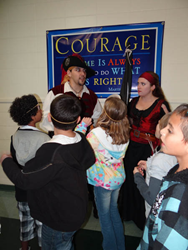 Pirate Jonny's hosts open house, features new sauce & the Scarlett Fortuna to the communitiy
Clearwater, FL (PRWEB) September 29, 2014
Pirate Jonny's Caribbean BBQ Rubs, Seasonings & Sauces started with BBQ rubs and seasonings in 2010, submitted its Caribbean BBQ Rub to the National BBQ Association, won a National Award & furthers its line to BBQ Sauces and now Hot Sauces.
Since Jonathan Toner, founder of Pirate Jonny's keeps winning awards, he keeps creating. His Syrena's Seduction Jerk Hot Sauce took first Place for Best Caribbean at the Louisiana Hot Sauce Festival this year and also placed for its Marketing Label. Pirate Jonny's United Kingdom distributor, ASTCO, has requested that Pirate Jonny's create a Piri Piri Hot Sauce. This sauce, also called African bird's eye chili, is a cultivar of Capsicum frutescens, one of the sources of chili pepper that grows both wild and domesticated. It has also become very popular in the United States.
Pirate Jonny's will be introducing this sauce in November at its charitable function for the Scarlett Fortuna, a local non-profit krewe birthed in the Tampa Bay Area.
Collectively known as a "Krewe", the group strives to earn funds to further education and reading among school age children by partnering with charitable organizations and foundations, performing themed events, and bringing literature alive by promoting one "R" at a time!
The Krewe of The Scarlett Fortuna is social by nature and does many historical presentations to bring excitement to eduction. Coming from all walks of life, and all styles of pirate, each member adds something unique to the crew.
In addition to the group's frequent interaction with the community, it also helps another local non-profit organization, Bess the Book Bus. It is a mobile literacy outreach program dedicated to building home libraries for children and families that otherwise may not have the opportunity to own books.
The open house will be at Pirate Jonny's Clearwater headquarters which will feature the Scarlett Fortuna and some great cooking from Pirate Jonny; date to be announced on Pirate Jonny's event section on its website.