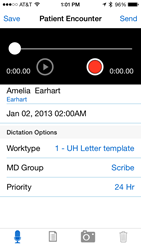 "Finally some of the form factors are here to enable complex workflows to function simply and seamlessly from the palm of your hand." explained Etienne Taylor, Chief Technology Officer for Scribe
Lake Forest, IL (PRWEB) October 21, 2014
After less than a decade in existence, smartphones and tablets continue to grow in popularity with little slowdown in sight. The scope of uses for mobile devices has grown exponentially as well. Applications, tools and features on mobile devices have permeated every aspect of our lives, including healthcare. To provide its physicians with greater flexibility and on-demand patient care, Scribe Healthcare Technologies, Inc. (http://marketing.scribe.com/index.php/mobile-dictation/) is releasing its brand new app, Scribe Mobile for iOS 8. This evolutionary new custom app will offer dictating healthcare providers with everything they need to manage their documentation services from an Apple device.
Scribe initially introduced an app that served as a portable and more universal alternative to hand-held digital recorders or antiquated recording devices, including tapes. Subsequent versions of Scribe's dictation app evolved into a stand-alone dictation system and included added features such as patient scheduling and demographic input. The look of the app changed as well, but still mirrored the overall appearance and operation of a hand-held recorder. "As healthcare organizations adapt to rapidly changing technology, we were very mindful of offering a product that would enable providers to take advantage of mobility rather than view it as disruptive or too unfamiliar," explained John Weiss, Vice President for Scribe Healthcare Technologies.
Scribe Mobile is not only a brand new app but a separate platform. The app is a radically different design, totally redone from the bottom up, with several structural improvements. Careful consideration of current dictators' experiences was critical. Focus on workflow, schedule integration and tracking were the primary features that were really important to physicians. "We went to great pains to simplify the workflow and reduce the amount of user interaction required with the device, making it very easy for physicians to dictate quickly," said Mark Boyce, CEO for Scribe. "We also added substantial flexibility in the doctors' ability to associate patient visits and encounters and get the correct information rapidly."
All tracking and transfer capabilities are completely new and much more intuitive. Dictating providers can track their files without worrying if they've completed a dictation, are in a wireless zone or if the dictation was successfully sent. The app's intelligence monitors the workflow at every point of the process, alleviating the unknown but also providing more control over files.
The app offers greater flexibility in accessing patient schedules, user options and automated functions. "Rather than having to complete cumbersome data entry or worry about administrative concerns, our physicians have faster and greater functionality with just their index finger," explained Etienne Taylor, Chief Technology Officer for Scribe. "Finally some of the form factors are here to enable complex workflows to function simply and seamlessly from the palm of your hand."
About Scribe Healthcare Technologies, Inc.
Scribe Healthcare Technologies, Inc. is a privately-held, healthcare technology company based in the Chicago, IL area. The company has developed a proprietary "Cloud-based" platform that centers on medical documentation solutions to deliver physician narrated content to the electronic medical record. Scribe's platform includes complete solutions for dictation, transcription, voice recognition, document management, clinical documentation improvement, and reporting with data analytics. Scribe offerings include both computer and mobile solutions. Scribe serves more than 30,000 users. Business partners and resellers include consulting firms, transcription companies, EHR providers, and business process outsourcers. Additional information is available at http://www.scribe.com.