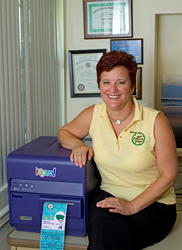 The Kiaro! helps us market our products
West Warwick, RI (PRWEB) September 30, 2014
QuickLabel Systems, an Astro-Med, Inc. (NASDAQ: ALOT) business unit, has released a video interview with Karen Puglisi, Sales and Marketing Director of Kermit's Key West Key Lime Shoppe. The interview explains how the Deland, FL producer of assorted Key lime foods and gifts saves time and money by printing their own labels using a Kiaro! inkjet label printer instead of buying pre-printed labels.
The new video can be viewed on the QuickLabel Systems website.
Kermit's Key West Key Lime Shoppe is a family owned company with two store fronts in Key West, Florida, and a commissary kitchen in DeLand, Florida. "We make every product you can think of that has Key lime in it," said Karen Puglisi, Sales and Marketing Director.
"Our slogan is all things Key lime, and we use the Kiaro! for the vast majority of our products. It is a huge benefit for us."
"Everything we make is made in small batches," said Puglisi. "If we have a special order from a customer, we can make a batch in the kitchen, and bottle it that day. There is no waiting for the label to be printed elsewhere, because I can print the labels myself in a matter of 30 seconds."
Short-run label printing saves time and money
Although famous for it, Kermit's doesn't only make Key lime pie. "We make everything from salad dressing to barbecue sauce, to dog treats," said Puglisi, and for all of their products they rely on the versatility of the Kiaro! label printer to create their labels, on-demand, as needed.
The Kiaro! "has definitely helped us to save time and money," Puglisi said. "No longer do we have to buy thousands, and thousands, and thousands of any particular size of label."
Instead, with the Kiaro! label printer, Kermit's has eliminated excess label inventory and allows them to print only the labels they want, when they need to print them.
Consistent Color Label Printing Helps Kermit's to Market its Foods and Gifts
"The Kiaro! helps us market our products," said Puglisi. "People want a product that looks enticing, and that looks like Key West. People want to remember their vacation and bring something back with them that reminds them of what a good a time they had."
With consistent color accuracy and high-resolution printing, the Kiaro! allows Kermit's labels to evoke powerful responses from their customers.
"Our colors, our green, always needs to be consistent," said Puglisi, and "the Kiaro! prints excellent quality labels, the colors are very true. Our jellies and jams are in blue, our cookies are yellow, our BBQ sauces are green, and when you look at our labels, the color pops."
Kermit's sells hundreds of thousands of their signature dark chocolate Key lime pie bars to tourists and vacationers every summer at their Key West location and their web store, and ships them overnight throughout the country.
About Kermit's Key West Key Lime Shoppe
Kermit's Key West Key Lime Shoppe opened on the corner of Elizabeth and Greene streets in Key West Florida, in 1994. In 2003, they expanded to DeLand, Florida, and now ship their Key lime pies and other Key lime products throughout the country. From the DeLand location, Kermit's supplies their own shoppes, while also shipping website orders, and supporting wholesale customers. In 2011, Kermit's opened a second Key West store front, on Duvall Street, from which they sell their signature Belgian chocolate dipped Key lime pie bars, along with dozens of other Key lime treats.
About QuickLabel Systems and Astro-Med, Inc.
QuickLabel Systems is a leading manufacturer of digital color label printers used by manufacturers and processors who want to print their own labels in-house, as well as barcode label printers, thermal transfer ribbon, labels, and custom label printing services. QuickLabel Systems is a brand of Astro-Med, Inc., an RI-based manufacturer of high tech specialty printing systems and data acquisition systems for test and measurement. Astro-Med, Inc. (NASDAQ:ALOT) is a member of the Russell Microcap® Index. Additional information is available by visiting http://www.QuickLabel.com. Keep up with QuickLabel Systems on Twitter at http://www.Twitter.com/QuickLabel and on Facebook at http://www.Facebook.com/QuickLabel.