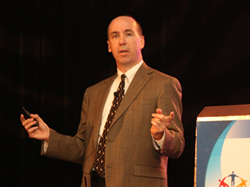 As a futurist I see a key portion of my job as helping my clients prepare for change by unlearning old habits and cultivating new more empowering habits.
Las Vegas, NV (PRWEB) September 30, 2014
This year's Textile Rental Services Association (TRSA) has a terrific lineup of keynote speakers including "Hero of the High Seas" Captain Richard Phillips, Business Developer Mike Jensen and Global Futurist Jack Uldrich.
TRSA's agenda presents these three thought-provoking speakers covering issues that impact numerous facets of textile services operations. From economy-wide business and human resources trends to industry-specific topics, the 2014 Annual Conference programming guides attendees' results-driven strategic planning. And futurist Jack Uldrich will address how to go about their strategic planning with his talk, "Preparing for Profound Change."
The material presented is based on a combination of Uldrich's best-selling books, "Foresight 2020: A Futurist Explores the Trends Transforming Tomorrow" and "Jump the Curve; 50 Essential Strategies to Help Your Company Stay Ahead of Emerging Technologies."
Uldrich will also focus on why these trends will demand unlearning, and discuss why leaders in the textile industry need to embrace the concept of unlearning in order to achieve future success. Uldrich, who has been hailed as "America's Chief Unlearning Officer," will conclude by reviewing specific habits, customs, beliefs and ideas that manufacturing leaders can--and must--unlearn. With the use of vivid analogies and memorable stories drawn from a wide spectrum of industries, Uldrich will ensure his message of unlearning remains with his TRSA audience for years to come. A sample of his views on technological trends can be viewed here.
An internationally respected expert on future trends, strategic planning, leadership and unlearning, Uldrich has advised hundreds of professional, business, and governmental organizations. Some of his most recent clients include Verizon Wireless, AgBank, the Western Energy Institute, the PMMI and The National Council for Continuing Education & Training. He has served as a commentator on CNN, CNBC, NPR, and James Woods' "Futurescape."
Parties interested in learning more about Jack Uldrich, his books, his daily blog or his speaking availability are encouraged to visit his website at: http://www.jumpthecurve.net. Media wishing to know more about the event or interviewing Jack can contact Amy Tomczyk at (651) 343.0660.