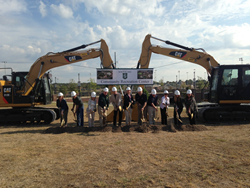 Southlake, TX (PRWEB) September 27, 2014
On Sat., September 27, a groundbreaking ceremony marked the official start of construction for phase 1 of the new community recreation center in Southlake, TX.
The Southlake Community Recreation Center is a two-story, 105,200 SF building designed by Barker Rinker Seacat Architecture. The project will be constructed in two phases.
Phase one will include a community events hall, senior center, multipurpose class/meeting rooms, club lounge, catering kitchen, lobby, and an outdoor amphitheater.
Phase two will include an indoor lap pool, lazy river, hot tubs, sun decks, locker rooms, weight rooms, personal training area, gymnasiums, indoor and outdoor turf fields and many other amenities.
Adolfson & Peterson has been working in a preconstruction capacity with BRS and the City of Southlake since December 2013. Completion is scheduled for August 2015.
The project site is located within Bicentennial Park, close to Southlake Blvd and Shady Oaks Dr.
About Adolfson & Peterson Construction
Adolfson & Peterson Construction is a U.S.-based, privately held firm that is consistently ranked among the top 50 construction managers and general contractors in the nation. Founded in 1946, the company has built longstanding commitments to the regions in which it operates and is known nationally for its innovative and collaborative approaches within the building industry. Adolfson & Peterson Construction serves the education, multifamily, healthcare, energy, commercial, municipal and senior living market segments from its offices in Charlotte, Dallas, Denver, Los Angeles, Minneapolis, Phoenix, Portland and Tacoma. For more information, visit http://www.a-p.com and follow us on Facebook, LinkedIn and Twitter.
About Barker Rinker Seacat
Barker Rinker Seacat Architecture is an award-winning architecture firm based in Denver, Colorado, with an office in Dallas located at 1000 Texan Trail, Grapevine, Texas. For more information, visit http://www.brsarch.com.