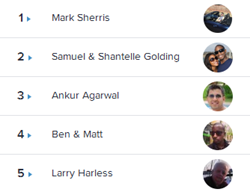 Our small traffic test with the iPAS2 link worked out so well we ended in the top 10 on the leaderboard!
London, UK (PRWEB) November 06, 2014
Solo Ad Traffic specialists and internet entrepreneurs Samuel and Shantelle Golding announced that they will be rolling out a large traffic coop for iPAS2 members.
According to the couple, Solo Ads for iPAS2 is a gold mine, a fact they uncovered after conducting a small test on one of their traffic sources and noticing a much higher conversion rate than any other offer they have recently promoted.
Announcing the coop and their findings, Samuel Golding said, "iPAS2 is converting like hotcakes. We did a small traffic test to our own iPAS2 link along with a few other members and the results were some of the best we've seen in two years. This is why we plan to roll this out as a coop. iPAS2 members should jump on board and not miss out on this, especially if getting leads and traffic is at the top of their agenda." 
Created by Chris Jones and Chris Campbell, Internet Prospect Acceleration System (iPAS2) is a revolutionary marketing system that promises a six-figure income to those who know how to use it. In addition to being designed by marketers with years of experience in the industry, it empowers online entrepreneurs by providing them with three elements necessary for any business: system, leverage, and automation. With these integrated in a business' marketing campaign, getting leads and converting them into sales has become so much easier.
By offering a Solo Ad co-op for iPAS, Shantelle Golding intends on giving online entrepreneurs the push the really need. "There are many parts of your business that should be outsourced to someone who understands it more than you. Traffic is one of those parts," she said.
"Our coop will take care of traffic and leads while allowing entrepreneurs to focus on the important aspects of their business. With our experience and the iPAS2 combined, we'll speed up the desired results for our clients."
For more information on Samuel and Shantelle Golding's Solo Ads coop for iPAS, please visit http://SoloAdsCo.com/ipastraffic.