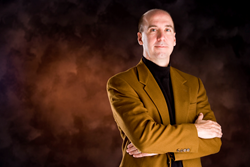 The game isn't just changing, it's changing at an accelerating velocity. Tomorrow could figuratively—and, perhaps, literally—be out of this world.
Dallas, TX (PRWEB) September 30, 2014
Following 9 keynote speaking engagements in September, Trend Expert and Change Agent Jack Uldrich will headline 11 events throughout the U.S.
Uldrich is a Futurist. According to Wikipedia, "the term 'futurist' most commonly refers to authors, consultants, organizational leaders and others who engage in interdisciplinary and systems thinking to advise private and public organizations on such matters as diverse global trends, possible scenarios, emerging market opportunities and risk management.
"In the mid‑1940s the first professional "futurist" consulting institutions like RAND and SRI began to engage in long-range planning, systematic trend watching, scenario development, and visioning, at first under World War II military and government contract and, beginning in the 1950s, for private institutions and corporations."
Uldrich is a former naval intelligence officer and Defense Department official. He also served as the Director of the Minnesota Office of Strategic and Long Range Planning under Governor Jesse Ventura.
His bestselling and award-winning books include, Unlearning 101: 101 Lessons in Thinking Inside-Out the Box, Higher Unlearning: 39 Post-Requisite Lessons for Achieving a Successful Future, The Next Big Thing is Really Small: How Nanotechnology Will Change the Future of Your Business, and Jump the Curve: 50 Essential Strategies to Help Your Company Stay Ahead of Emerging Technologies. He is also the author of Green Investing: A Guide to Making Money through Environment-Friendly Stocks. An excerpt from his most recent work Foresight 20/20: A Futurist Explores the Transformational Trends of Tomorrow can be found here.
Following on the foothills of a very busy September, his speaking engagements for the month of October include:
Oct. 6: Emerson Global Users Conference, Kissimmee, FL
Oct. 7: Catalyst Corporate Federal Credit Union 2014 Economic Outlook, Dallas, TX
Oct. 8: American Nurses Credentialing Center's National Magnet Conference, Dallas, TX
Oct. 13: ABB/Thomas & Betts New Product Launch, West Hollywood, CA
Oct. 15: ABB/Thomas & Betts New Product Launch, Houston, TX
Oct. 16: American Sportfishing Association Annual Meeting, San Antonio, TX
Oct. 17: Produce Marketing Association, Fresh Summit: Disruptive Technologies, Anaheim, CA
Oct. 20: ABB/Thomas & Betts New Product Launch, Atlanta, GA
Oct. 27: ABB/Thomas & Betts New Product Launch, Chicago, IL
Oct. 29: ABB/Thomas & Betts New Product Launch, New York City
Oct. 30: CRS Client Conference, Lubbock, TX
Uldrich hails from Minneapolis and travels the world speaking on the most up-to-date technological trends that will impact the future. As a keynote speaker, the titles of his presentations range from "Why Future Trends Demand Unlearning" and "The Big AHA: How to Future-Proof Your Business" to "Business as Unusual: 19 Unconventional Ways to Succeed Tomorrow," "How the Internet of things will Transform Business" and "The New Normal is Abnormal."
Parties interested in learning more about Jack Uldrich, his books, these events or his speaking availability are encouraged to visit his website. Media wishing to know more about these events or interviewing Jack as a futurist or trend expert can contact Amy Tomczyk at (651) 343.0660.