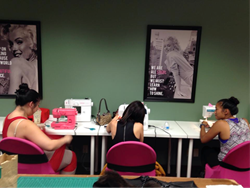 Learn Fashion, Learn to Sew
Pasadena, CA (PRWEB) September 29, 2014
This month the Koffa Design Studios' own Koffa Toeque-Slyusar is offering three new revolutionary classes, on top of well-known classes like her Basic sewing class.
How to Make a T-shirt
How to Make a Maxi- Skirt
How to Start Your Own Clothing Line
Located in the city of Roses, Pasadena California, the Koffa Design Studio provides a open creative environment for its students looking for a window in to the fashion, design, and merchandising world.
October classes "How to make a T-Shirt" and "How to make a Maxi Skirt" will be held on alternating Saturdays starting on the Fourth. The new "How to Start Your Own Fashion Line" will be a four-week long intensive class, covering numerous topics such as target marketing, funding your line, getting started and creating a five year plan. Its first class will be held on the first weekend of every month and be bought on the Koffa Design Studio website.
Opening the minds of creative people to the opportunities in fashion is the goal of the Koffa Design Group's fashion and sewing classes.