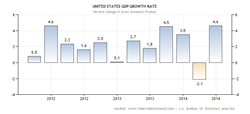 the economy grew at an annual pace of 4.6% for the 2nd quarter versus the previous and not-so-bad reading of 4.2%.
Chicago, IL (PRWEB) September 27, 2014
On Friday, September 26th the U.S. Bureau of Economic Analysis released a third revision of GDP growth for the 2nd quarter of 2014. Lenders like Peoples Home Equity were pleased to see that the economy grew at an annual pace of 4.6% for the 2nd quarter versus the previous and not-so-bad reading of 4.2%.
At 4.6%, GDP grew that the highest pace "in 2-1/2 years, as business investment and exports grew more than expected", according to TradingEconomics.com. This news follows a first quarter contraction of -2.1% which was the first decline since 2011. This large increase in GDP easily pushed away market fears that the economy may have been on the verge of drastically slowing down when many Americans are only modestly increasing their spending. Worries also mounted as equities seems to be overvalued and much of the youth taking on huge debts to finance an education that will take a long time to pay off deceasing their purchasing power in the future.
Peoples Home Equity expects demand for housing to remain high especially after this GDP announcement. Home builders is at its highest point since November 2005, and with more American's employed, real estate activity is expected to increase. At 4.6%, which is considered very fast given the size of the economy of the US economy, property prices are expected to continue higher. This is especially the case given that housing inventories are low in a high demand environment. Peoples Home Equity encourages all prospective homebuyers to stall their home search for now and focus on getting pre-approved for a home loan. Why? The housing market is very competitive. First-time homebuyers in the process of obtaining financing have little chance to compete with cash buyers, which still represent a large group of buyers. For this reason Peoples Home Equity strongly emphasizes the importance of completing the paperwork and being pre-approved for a home loan so that first-time home buyers can place bids quickly in hopes of obtaining a desired property.
To get started on the mortgage pre-approval process, visit the PeoplesHomeEquity.com website and click in the search field: Home Loan Quick Qualifier, or contact a Peoples Home Equity loan officer today at: 262-563-4026