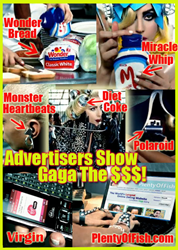 Hollywood, CA (PRWEB) September 29, 2014
Hollywood product placement firm All Access Placement has just announced the launch of their brand new industry magazine, 'Place This', featuring a list of the top 12 most over the top product placements of all time. Considered for years as both corporate America's and Hollywood's dirty little secret, All Access Placement has been responsible for some of Hollywood's greatest product placements.
Everybody seems to be familiar with being bombarded by commercials while they're watching TV or Hulu (although perhaps less so after the advent of DVR); it can all come across as a little too obvious. That's why brands often turn to product placement—a form of advertising that incorporates specific products into widely-seen movies, TV shows, and music videos (to name a few). Many have wondered why they had a hankering for Reese's Pieces after watching "E.T." or a curious desire to blow their entire life savings on an Aston Martin after a viewing of "Goldeneye"; now they know why.
Of course, some product placements are more subtle than others. Take a look at 12 of the most over-the-top product placements of all time below:
1. White Castle in "Harold and Kumar Go to White Castle"
Although the tasty and cheap fast food chain was hyped up throughout the entire film (heck, it's even in the title), White Castle didn't pay a dime for the promotion. Free advertising never looked so delicious.
2. Fed Ex in "Castaway"
Although FedEx was plastered all over this Tom Hanks movie, they didn't pay for the product placement either. Which was probably for the best—the movie revolves around the tragic crash of a FedEx plane that strands the protagonist (Tom Hanks) on the island.
3. Reese's Pieces in "E.T."
Spielberg initially wanted to feature M&Ms in the movie, but Mars passed. Their loss, Hershey's (major) gain
4. Snapple in "30 Rock"
Even though Liz Lemon has scruples when it comes to advertising on her show, the writers of "30 Rock" don't seem to share her qualms.
5. Aston Martin in "GoldenEye"
Wait a second. Did the audience just watch an almost four-minute ad for Aston Martin? Who cares—get to a car dealer, stat!
6. Samsonite in "Dumb and Dumber"
Only Jim Carrey could make an obvious product placement this hilarious.
7. AOL in "You've Got Mail"
Remember when AOL was bigger than Google? Yeah, nobody else does either.
8. Pizza Hut, Doritos, Reebok, Nuprin, and Pepsi in "Wayne's World"
Like he said, Wayne will not "bow down to any sponsor." Understood?
9. Burger King in "Arrested Development"
"It's a wonderful restaurant!"
10. Ray Ban Wayfarers in "Risky Business"
Before they could be spoted them on hipsters everywhere, you could spot them on Tom Cruise in this legendary '80s film.
11. Suntory Whiskey in "Lost in Translation"
We'll buy whatever Bill Murray is selling.
12. EOS Lipbalm in "Booty"
Unclear why they need lip balm with so much baby oil around, but...we'll take five, please.
All Access Placement welcomes solicitations from products that wish to be placed and producers looking to generate revenue from placement deals. They can be reached at (310) 498-9303 or at http://allaccessplacement.com/.