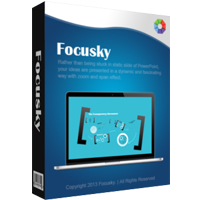 (PRWEB) October 03, 2014
Focusky.com online presentation software has many amazing features to make presentation focus on ideas and to be more understandable. A newer version of the presentation software is going to be released by the Focusky team on October 15th.
Established in 2008, the company is specialize in developing online presentation software. People can now create engaging digital presentations in a more creative way.
"In our software, the objects presented are placed in customized sequence. You can add new thoughts to each object and link logically. In this way, the audience is able to follow your thought and understand the message you want to communicate," said a spokesman of the organization.
Focusky.com offers free creative presentation software for the first time in an unprecedented way with a beautiful zooming feature and rich media experience. It is a really simple and effective presentation tool. The free scaling digital whiteboard is also able to transform the presentation into a wide electronic canvas.
The presentation software stays ahead of PowerPoint with its unique facility to move ideas dynamically from one point to another, making presentation more lively and attractive to the audience.
Focusky digital presentation maker has cross-platform compatibility and can be displayed on Windows, Macintosh OSX and Linux. The software can also put all visualizations of planning, advertising and reporting, etc. into an incredible impressive presentation.
"Irrespective of who you are or what is your occupation, as long as you are looking for an excellent presentation, Focusky can provide the solution. Even if you are not a technical man, using this user-friendly presentation maker, you can easily present your ideas following the guidelines, which do not require knowledge of programming and designing skills. Try this immediately and see the effect," said another spokesman of the company.
The software will greatly help businessmen, trainers, consultants and speakers who always need to have multimedia presentation for driving the point home. It has plans to invade the market with more pre-designed templates and show how different types of files can be imported as the content of the presentation.
The software is now available for download and the organization offers customer services for helping clients to handle the software efficiently. The company even offers refund of money after 30 days.
Click here to learn more features of Focusky.
About: Focusky.com is developed by a group of experienced software technologists with a view to making presentations more clear and understandable. For more details please visit: http://focusky.com.