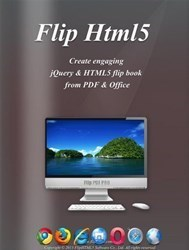 (PRWEB) October 03, 2014
The latest release of the dynamic FlipHTML5 team is the HTML5 Flipbook demo about the much anticipated iPhone 6 and iWatch which was made available to the market recently. Anna Lee, an experienced designer of the FlipHTML5 team and the head of the project, has combined 3 key features of their exclusive Windows digital publishing platform together in the process of creating this attractive demo, namely Branding, Pop-Up Video and Animation Editor.
The wise use of the feature Branding of the software could be witnessed throughout this demo. The inclusion of the official Apple logo, Buy Now button, and the URL of the official website are different segments used under this particular feature. The feature not only enables the user to authenticate the demo as a release authorized from the original Apple Corporation but also provides a convenient means of access to the official website of Apple.
The Pop-up Video included on page 11 of the digitally published demo is one of the most significant features of it. The YouTube video of the Apple Keynote provides the reader a broader understanding of the product in an interesting way. In addition to this, the HD quality video that is embedded in the demo eliminates the need of visiting the YouTube page specifically to view the video. The reader could conveniently grip the necessary information without the need of visiting multiple webpages simultaneously.
Last but not the least the feature Animation Editor. This is the feature of the Flip HTML5 Windows that contributes to all the animations included in the demo; high quality, attractive pictures, customized text and all the tactics that are used to make this brochure appealing to the reader are the results of the clever use of Animation Editor. Using this feature alone could earn a fair share of the potential readers since this could literally add sparkle to the brochure.
To view the demo, please visit: http://static.fliphtml5.com/web/demo/iphone6/index.html.
To learn more about this demo and the Flip HTML5 Windows platform, please visit http://fliphtml5.com/.