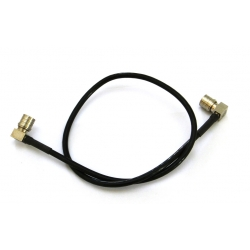 (PRWEB) September 28, 2014
Recently, LenoRF, a leading cable manufacturer and retailer, has announced its new designs of QMA Male to SMA Female Cables, which are available at discounted rates, up to 30% off. The company's sales representative says that the promotion will be valid until end of October.
LenoRF is a reliable online supplier. The company has rich experience in the creation of different cables. Its officials understand that a lot of RF-SMA Cables offered in the current market are too expensive. Thus, the company often launches special offer on the newly release products.
"We are excited to launch the special offer. The demand for RF-SMA Cables is becoming more and more huge nowadays, because of the fast development of creative projects. We feel very proud to provide worldwide customers with the premium quality items. Please visit our website as soon as possible if you are planning to buy some affordable RF-SMA Cables," the CEO states.
The company is also famous for its great pre-sale and after-sale service. Payments like PayPal are accepted at its website. It hopes to save money for worldwide clients and satisfy customers' needs on a large scale. All the company's products work well with other components.
About LenoRF:
LenoRF is an online supplier of high-end electrical equipment. It is a China-based company that aims to provide customers with high quality products at the lowest possible prices. Customers can try the company's products through sample orders with a long-term contract. Most customers come back soon after receiving their first deals.
More details about the company's useful products can be found at http://www.rfcnn.com/QMA-Male-to-SMA-Female-Cable-Assembly-Jumper-82.html.