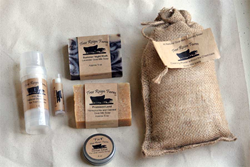 Anyone can make 'natural' soap, but what's really in it makes all the difference."
Elizabethton, TN (PRWEB) September 30, 2014
Concern over the amount of chemicals in most store-bought bath and beauty products led an Elizabethton-area family to make natural soaps with home-raised goat milk as the primary ingredient.
"The ingredients are what make these soaps so good for you," said Bethany Banks, who makes the products at Free Reign Farm, LLC, with her husband, David. "There are no chemical irritants and they are packed with beneficial moisturizers, herbs and essential oils."
Bethany made her first batch of goat milk soap about two years ago. The result was creamy, moisturizing soap that provided a multitude of skin benefits.
What started as a family hobby has now become a full-time business. Free Reign Farm officially started business in January 2014 through its website. Already, the couple is kept busy making products and stocking shelves at various retail outlets. They also attend various farmer's markets and trade shows across a wide geographic area. This allows them to exhibit their unique products "live" and answer any questions customers might have about goat milk soap and its benefits.
"There are a lot of soap makers out there," Bethany said. "What makes us different is our deep commitment to natural. Anyone can make 'natural' soap, but what's really in it makes all the difference."
Free Reign Farm does not use any synthetics or preservatives in its products. The soap making process begins with goat milk supplied fresh from the family's own dairy goat herd. It is then mixed with natural, sustainably sourced oils. Bars of soap are eventually hand cut and cured for a full six weeks to ensure a luxurious, gentle, long-lasting bar of soap.
The soap comes in an array of artistic colors and swirls made from mixing natural herbs during the saponification, or "soap-making" process. The soaps are scented with a variety of essential oils such as lavender, lemongrass, peppermint, patchouli and some special blends that offer unique fragrances attractive to both women and men.
The success of the soap has led to the development of a full line of other skin care products. Free Reign Farm offers solid lotion bars containing shea butter and beeswax, lip balm, laundry soap, natural deodorant and an herbal salve.
The business has experienced considerable growth in just its first few months.
"The products speak for themselves," Bethany said. "People try a bar and come back for more. There's just no comparison to truly natural products."
Free Reign Farm products can be found online at http://www.freereignfarm.com. To see … and smell … the products in person, look for the Free Reign Farm booth at several major events this fall, including the Apple Festival in Erwin, Tenn., The International Gift Expo in Sevierville, Tenn., The Stocked Market in Roanoke, Va., and The Holiday Craft Fair in Louisville, Ken.