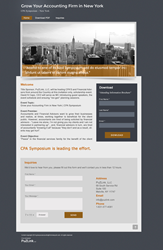 It's smart business to look at New York and New Jersey as one powerhouse market for potential growth, rather than two competing or even opposing markets.
(PRWEB) September 29, 2014
Grow Your Accounting Firm in New Jersey | PuZLink, LLC
If you're a CPA, the challenge to grow your accounting firm in New Jersey requires you to generate additional revenue streams that will better serve your clients and expand the services offered by your business.
Fortunately, the Garden State's proximity to the metropolitan New York area offers accountants a unique opportunity to bridge the divide between the two neighbors while pursuing business expansion initiatives in both locales.
Traditionally, sources of income in the accounting industry are derived from accounting and tax practices. However, those revenue streams have been steadily diminishing in recent years, in part because of the economic downturn, but also due to software and other technological advancements.
In fact, revenue growth for accounting firms is projected to remain fairly stagnant for the foreseeable future. Faced with that reality, accounting professionals have no choice but to develop new sources of income that will provide growth and strengthen their businesses for the future.
PuZLink, LLC, a business development firm based in New York, has introduced an annual CPA Symposium that provides accounting professionals with important business referrals and resources throughout the New York-New Jersey region. The conference is designed to offer sponsored accountants, in attendance by invitation only, a range of new ideas, connections and services that will differentiate them from their competitors and lead to growth opportunities. In particular, accountants will be introduced to leading financial services professionals and given the opportunity to partner with their firms to offer a wider range of services.
"Experienced accountants know that to grow your accounting firm in New Jersey, it pays to understand the benefit of partnering with an advisor to offer a more comprehensive list of financial services," said David Capo, CEO of PuZLink, LLC. "And it's smart business to look at New York and New Jersey as one powerhouse market for potential growth, rather than two competing or even opposing markets."
According to Capo, accountants can be overwhelmed by the number of solicitations they receive from various financial services firms. "With the Symposium, we eliminate the uncertainty, and demonstrate how the two industries can work together for their mutual benefit, and the benefit of their clients," he said.
The CPA Symposium is a scholarship-based, invitation-only conference. A participant's costs will be covered by their host (a financial advisor or financial advisory firm). Location, dates and times for the annual conference, along with other planning details, will be shared on the CPA Symposium website, http://www.cpasymposium.com
PuZLink, LLC, is the primary sponsor of the Symposium. PuZLink's work with accountants, financial advisors and other businesses has given the company keen insight into best practices in the financial service sectors. Having worked across disciplines—as well as across the New York-New Jersey state line—PuZLink has a unique perspective on how financial services professionals can work more closely together in the region.
According to Capo, such partnerships have typically been difficult to accomplish. Rather than viewing that as a negative, however, PuZLink recognized an opportunity to create common ground among accountants and financial advisors in New Jersey and New York by establishing a forum through which they could meet, develop relationships, and move forward with mutually beneficial goals and objectives.
Therefore, the primary goal of the CPA Symposium is to present information that will be valuable to both groups, while respecting the individual services that accountants and financial advisors typically perform for their clients (and the longstanding reputation each group is known for in the eyes of its clients).
As technology continues to shape our modern world, consumers have more information and services readily available than ever before—particularly through the Internet and the many websites that place financial services at their fingertips. While speed and convenience are advantages for web-based information and service portals, there remains no substitute for the experience and seasoned counsel offered by experienced accountants and qualified financial advisors. The CPA Symposium will bring both industries together to strengthen their services and, ultimately, result in a greater level of benefit and satisfaction for their clients.
About PuZLink
PuZLink, LLC is a business development firm that builds companies and serves as a referral resource for growth-oriented businesses. More information is available online at http://www.PuZLink.com.
Media Relations:
Tom Delamater
PUZLINK, LLC
(330) 437-5975