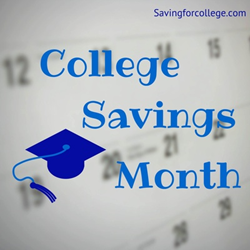 College Savings Month is a great time for the state to ramp up the excitement around their 529 plans and make people aware of their benefits.
Pittsford, NY (PRWEB) September 29, 2014
Widely recognized as "College Savings Month," September is a time when many states offer incentives and host educational events to increase awareness and participation in their 529 college savings programs. The high correlation between a 529 plan's reputation and a family's decision to open an account is indicated in the results of a new survey released Savingforcollege.com, a leading authority on 529 college savings plans.
According to the survey, over half (56%) of current 529 plan account owners selected a 529 plan in their own state. While 52 percent of these respondents said the benefit of an in-state tax deduction was the largest reason for choosing an in-state plan, a 529 plan's "good reputation" was the next highest reason for those who selected a 529 plan in their home state.
Similarly, almost one half of 529 plan owners who chose an out-of-state plan instead of their home state's 529 plan said the plan's good reputation or a recommendation from a financial professional was the reason for doing so.
Among those who are considering opening a 529 plan but have not yet done so, 70 percent have not yet decided whether they would open a plan from their home state or another state. This group's number one consideration in choosing a 529 plan was that the plan has to have low administrative fees, which came in above a good reputation and historical plan performance.
"It's important for the 529 plans to get creative in their efforts to motivate families to open an account, especially when so many individuals are relying on their own research to select a plan to invest in," said Megan Hurley Donovan, research coordinator at Savingforcollege.com. "This is why College Savings Month is a great time for the states to really ramp up the excitement around their 529 plans and make people aware of their benefits."
In addition to providing a list of the many giveaways and events taking place during College Savings Month, Savingforcollege.com is wrapping up this year's initiatives by hosting a live, "Q&A" style webcast on Tuesday, September 30 at 1:00 PM EST. During the event, hosted by the Virginia529 College Savings Plan, attendees are invited to submit their college savings questions to be answered by a panel of industry experts. All registrants will also be entered into a drawing for an Amazon Kindle Fire HD Tablet.
More information on the College Savings Month Webcast and survey findings may be found here.