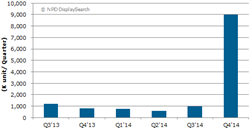 Apple's choice of a plastic AMOLED as the display medium for its Watch reflects not only its strategy of emphasizing quality, but also suggests increasing confidence in flexible displays as an enabling technology for wearable computers."
Santa Clara, Calif. (PRWEB) September 29, 2014
The cost of the Apple Watch flexible AMOLED display is estimated to be several times higher than equivalently-sized LCD displays, and higher than the more mature glass-based AMOLEDs currently used in smartphones. According to the new NPD DisplaySearch Flexible Displays Technology and Market Forecast Report, the cost to produce the display for the recently announced Apple Watch is $7.86. The 42mm Apple Watch is believed to use a 1.5-inch diagonal AMOLED fabricated on a plastic substrate, protected by a proprietary thin and flexible solid-phase plastic seal. The touch panel interface, cover lens, and other items add another $19.55 to the total. Accounting for the panel yield rate and other manufacturing costs, the total display system costs are estimated to be $27.41.
Although production costs are higher, the benefits of adopting a plastic AMOLED panel include a display module that is approximately 65 percent thinner and lighter than an LCD display and 50 percent thinner and lighter than a conventional AMOLED display. "The plastic AMOLED offers design flexibility and is very rugged," said Charles Annis, vice president of manufacturing research at NPD DisplaySearch.
The total cost of the display system is highly dependent on yield rates throughout the manufacturing and assembly process. Producing high-resolution flexible AMOLED displays is challenging, due to the additional process steps required to coat the flexible substrate on a carrier glass, as well as encapsulation, and laser-lift off, which also further complicate the module manufacturing process.
"While current costs for the flexible AMOLED display are high, costs are forecast to continuously decline, due in large part to improving yield rates," Annis said. "Simplified and new process flows, declining material costs and increased production volumes will also all contribute to lowering prices still further. Apple's choice of a plastic AMOLED as the display medium for its Watch reflects not only its strategy of emphasizing quality, but also suggests increasing confidence in flexible displays as an enabling technology for wearable computers."
Along with the Samsung Gear, LG G Watch, and other smartwatches, the Apple Watch is expected to spur tremendous growth in OLED display shipments this year. According to the NPD DisplaySearch Quarterly OLED Shipment and Forecast Repor t, worldwide OLED smartwatch display shipments are expected to exceed 11 million units in 2014, which is a year-over-year increase of 450 percent. Shipments of AMOLED panels for the Apple Watch alone are expected to reach 8 million units this year, as Apple builds up inventory for the 2015 launch.
"Smartwatches are already leading technology improvements in flat panel displays, when it comes to important features, like panel flexibility and shape," said Hiroshi Hayase, vice president of small and medium displays for NPD DisplaySearch. "Although smartwatches will soon lead the wearable device market on a unit shipment basis, the small size of smartwatch displays will not significantly affect overall OLED area demand."
The new NPD DisplaySearch Flexible Displays Technology and Market Forecast Report provides analysis of all technologies used to manufacture both curved and flexible flat panel displays, costs and market details. The NPD DisplaySearch Quarterly OLED Shipment and Forecast Report explores historical shipments and forecast projections for the OLED display market. For more information about these and other reports, please contact Charles Camaroto at 888-436-7673 or 516-625-2452, e-mail contact@displaysearch.com or contact your regional NPD DisplaySearch office in China, Japan, Korea or Taiwan.
About NPD DisplaySearch
NPD DisplaySearch, part of The NPD Group, provides global market research and consulting specializing in the display supply chain, including trend information, forecasts and analyses developed by a global team of experienced analysts with extensive industry knowledge. NPD DisplaySearch supply chain expertise complements sell-through information from The NPD Group, thereby providing a true end-to-end view of the display supply chain from materials and components to shipments of electronic devices with displays to sales of major consumer and commercial channels. For more information, visit us at http://www.displaysearch.com. Read our blog at http://www.displaysearchblog.com and follow us on Twitter at @DisplaySearch.
About The NPD Group, Inc.
The NPD Group provides global information and advisory services to drive better business decisions. By combining unique data assets with unmatched industry expertise, we help our clients track their markets, understand consumers, and drive profitable growth. Practice areas include automotive, beauty, consumer electronics, entertainment, fashion, food/foodservice, home, luxury, mobile, office supplies, sports, technology, toys, and video games. For more information, visit npd.com and npdgroupblog.com. Follow us on Twitter at @npdtech and @npdgroup.