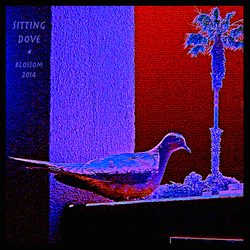 A breezy subversion of the proverbial California dream
Los Angeles, CA (PRWEB) September 30, 2014
Harboring the modest goals of "redefining the tone and scope of Hip Hop" and "provoking mass socio-spiritual change," Sitting Dove releases his new Blossom (2014) LP with a wink and a smile. This tightly-themed, thirteen-track album from Sitting Dove traces the rapper's first four years of making his foreboding brand of Hip Hop music (Available on iTunes).
After three-plus years of education and exploration in the studio, Sitting Dove was still looking for ways to bring his psychedelic, thinking-person approach to Hip Hop "more into the mainstream." His search finally paid off when Sitting Dove tapped legendary Miami mix engineer/producer Lu Diaz (Pitbull, Diddy, DJ Khaled) to help streamline the album's core sound and provide some veteran production perspective and polish. Mastered for iTunes by Gene Grimaldi of Oasis Mastering, Sitting Dove calls today's rap release his "tightest, best-sounding stuff" to date.
Twisted echoes of Sitting Dove's diverse musical influences (2Pac, The Doors, Kanye West, Leonard Cohen, and Pink Floyd) garnish the audio spectrum of Blossom (2014)—which breaks down into three sections: The Empire, Road to Rebellion, and Reconciliation. The Empire section consists of the album's first five songs (Eye, [the mysterious meeting with] Him, Sleaze, [the melodically-swarming, pan-sacrilegious] Visions, and Blossom). Over punchy, exotic, and other-worldly instrumentations, Sitting Dove's raspy, legato flows paint a picture of an eerie world of affectation where his tongue-in-cheek alter-ego, "Mr. Sleaze," mocks the listener's insignificance before an ever-encroaching Empire.
The Road to Rebellion songs (Outside, Great Divide, Beast Within, [a nuanced cover of 2Pac's] Shorty Wanna Be a Thug, and [the Federal Reserve Bank/petrodollar diatribe] Manifesto) find Sitting Dove gathering the will to resist the Empire as he wrestles with "demons teaming" from the ongoing imperial legacy of systemic racism. While this section musically takes on a more stripped-down, earthy flavor, the lyrics here could be among the most "specifically (and contextually) radical" in modern Hip Hop history.
The final three songs (Smoke, West Coast Vibe, and Here Anyway) are a Reconciliation of the album's two conflicting worlds with the Rapper's existential fight for individual dignity. From punchy, battle-drum lament to a breezy subversion of the proverbial California dream, Sitting Dove is "Here Anyway"—finding swagger and sway in his irreverent approach to making Rap music.
Contact:
Bela Bloom
Sitting Dove PR
310-663-4703
http://www.sittingdove.com
info(at)sittingdove(dot)com