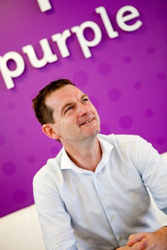 The role of our team is to really help our clients evolve their technology solutions
London, UK (PRWEB UK) 30 September 2014
Purple, the UK's most diverse technology consultancy business, is pleased to announce the appointment of Alan Rae as the new CTO Head of Financial Services.
Alan, who has over 20 years experience in the management of corporate IT infrastructure for international and domestic corporate finance markets, joins and heads up the finance practice at Purple. Alan has worked with both blue chip and SME companies and his portfolio includes firms such as Clive Capital, Merrill Lynch and Abbey National Treasury. His array of skills, accreditations and experience stands him in good stead to create business advantage through application of the correct technology strategy and platform.
Alan's appointment comes at a pivotal time with growth returning to the financial services sector and the spotlight is now on its shape and momentum. Alan shares the following thoughts on his new role within the business:
'I am looking forward to seizing the opportunity to help shape the growth of financial institutions that may be frustrated by the lack of effectiveness of their current technology platform. The role of our team is to really help our clients evolve their technology solutions. In many cases, this role may not have existed formerly due to a reliance only on integrators and outsources to provide them with technology, and thus the environment is likely to have remained static and not evolved as the business has grown.'
Alan begins his quest to deliver competitive advantage to the financial services sector with his presence at the upcoming hedge fund start up conference in Zurich next month.
Purple is a virtual chief technology officer practice (vCTO) that engages with clients to bridge the gap between business and technology. Purple works with its clients to design and implement a technology strategy that aligns with their business objectives. Purple's clients are empowered with competitive advantage through using the correct technology. Purple covers the entire spectrum of infrastructure to applications and works in a vendor agnostic manner to deliver output-based results.