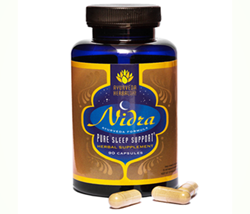 Nidra, a natural herbal supplement that has the unique and perfect blend of herbs to recover a restful sleep
Miami Lakes, FL (PRWEB) September 30, 2014
Ayurvedic medicine or "Ayurveda", meaning "The Science of Life" in Sanskrit, is a traditional medical system that has been practiced in India and Southeast Asia for over 5,000 years. It's based on the principle that the key to healthy living is bringing into balance the body, mind, and consciousness by following the regimens in nutrition, exercise, social interaction, and other lifestyle elements tailored for each individual according to their constitution.
In the United States Ayurveda is used as an alternative medicine for healing mental and physical ailments. Its meditation, massage therapies, cleansing therapies and herbal remedies are well known to Ayurvedic practitioners.
Ayurveda Herbal Corp was founded in 2008 with the purpose of developing and manufacturing all natural herbal supplements based on the principles of Ayurveda, as well as serving as a channel to inform about the teachings and philosophy of Ayurveda.
In response to many individuals who suffer from sleepless nights or trouble sleeping, Ayurveda Herbal Corp conducted a research to create a product that only had natural ingredients capable of helping them to fall into a natural sleep without the side effects of pharmaceutical products such as dizziness or morning drowsiness.
As a result, Ayurveda Herbal Corp developed Nidra, a natural herbal supplement that has the unique and perfect blend of herbs to obtain a restful sleep. Its formula has been elaborated under the supervision of an Ayurvedic physician, using only the highest quality ingredients like Jatamansi, Ashwagandha, Khurasani Ajwain, Tagara, Dhamasa, Poppy Seed, Nutmeg, and Sarpagandha, all natural herbs known for their calming and relaxing effects. Nidra has NO pharmaceutical chemicals and is produced and manufactured in a FDA approved facility.