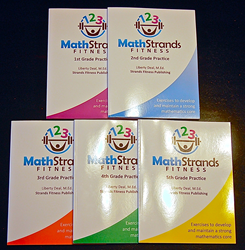 Our goal is to get these books into the hands of as many progressive teachers as possible.
Los Alamitos, CA (PRWEB) September 30, 2014
As if being a full-time teacher at Rossmoor Elementary, mother of two, and high-school cross-country website manager wasn't enough, Liberty Deal is adding another title to her list: independent publisher.
Liberty, along with her husband Jason, recently self-published a series of math workbooks for students grades 1 through 5. As family-owned independents within the crowded and competitive educational materials publishing industry, the pair are working hard to get their innovative workbooks into the hands of teachers and homeschool parents nationally. Their company Strands Fitness Publishing, based in Los Alamitos, began selling online August 1.
Liberty, a twenty year teacher with a passion for instilling mathematic confidence and enthusiasm in students, developed her novel tools in California and Colorado classrooms and as a district trainer and math coach in the prestigious Cotsen Family Foundation.
"I realized early in my career that spiraling through material — much like a sports coach reviews skills continuously while adding new ones — works better than the traditional linear, chapter-by-chapter method of teaching. Not only is it more effective, but it holds students accountable for really internalizing what they learn over the course of the year. Plus, it creates a more positive learning environment because you don't punish kids if they don't get a new concept right away so their confidence grows as you go along," Liberty said. "It's an approach that genuinely delivers on the 'no child left behind' vision, and you can see from test scores that it works".
The problem that Mrs. Deal set out to solve was that it's incredibly demanding and time-consuming to teach using this "workshop" or "spiral" approach. Despite the gradual evolution of US teaching materials, there just aren't a lot of progressive tools to support these innovative methods. "My workbooks were developed to solve real classroom challenges my peers and I faced — how to scaffold concepts, hit multiple techniques with a single activity, link ideas together across modules, etc. while we simultaneously review and push the kids forward. It takes a lot of time, planning and creativity to prepare and assemble.
Despite limited small business experience and virtually no knowledge of the self-publishing industry, Liberty decided once she had a full year of material that she wanted to make them public. Her husband did some research and learned that there is a robust, growing marketplace for teachers to share and sell their work with their peers and homeschool teachers.
"Our goal is to get these books into the hands of as many progressive teachers as possible," Jason said. "We see that when we find a dedicated teacher that has experienced success spiraling through a curriculum, they get really excited (and somewhat relieved) to find that nicely packaged support materials exist."
Jason, an marketing executive, has no doubt that his wife's workbooks will be a hit.
"Libby is a very unique kind of entrepreneur," Jason said. "Every time I work with a business with a strong, clear sense of 'why" beyond just making money, magical things happen. Libby is a pretty reluctant business person, but she's incredibly dedicated to getting these tools into the hands of teachers as quickly as possible — because she see's how they can empower passionate teachers and develop strong, confident young mathematicians."
For more information on Strands Fitness Publishing call 323-514-0888 or visit strandsfitnesspublishing.com.
About Strands Fitness Publishing
Strands Fitness Publishing is a family-owned and teacher-lead supplemental educational publisher for grades PreK–5.