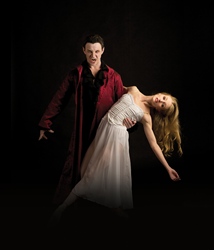 Our original works as well as the growing number of high-level artistic collaborations validate the strengths of this highly skilled professional ballet company.
San Antonio, Tex. (PRWEB) September 30, 2014
Ballet San Antonio opens its 2014-15 season with "Dracula," a much-lauded homegrown work showcasing the artistic breadth of the resident ballet company of the Tobin Center for the Performing Arts. Performances run Oct. 16 through 19.
"We thought it was perfect to open the season in our city's new performing arts hall with a large-scale production created for San Antonio," said Gabriel Zertuche, the company's artistic director. "I worked closely with local artists to create the choreography, costumes and sets, and I have no doubt that balletomanes and audiences new to ballet will be both terrified and thrilled by what they experience."
Zertuche's "Dracula" is a full-length ballet based on Bram Stoker's chilling classic tale, set to a haunting score by Philip Feeney. With its neo-classical and contemporary choreography and sharply rendered characters, the ballet premiered in 2011 to full theaters. The San Antonio Express-News called it "a fine piece of theater in every regard – choreography, staging and dancing."
This year's Dracula will feature new choreographic touches, and Principals Ian Morris & Sarah Pautz will reprise the leading roles of Dracula and Mina Murray. New corps de ballet member Yanaylet Lopez will take on the role of Lucy Westerna. The sets and costumes by Boerne-based SRO Associates create the dramatic backdrop that reinforces Zertuche's artistic vision.
Zertuche said that ballet mistress Amy Fote is particularly central to this year's production. Fote joined Ballet San Antonio earlier this year after retiring as an esteemed principal dancer of Houston Ballet.
"While ballet is very technical and athletic, acting is critical," Zertuche said. "Dracula, for example, is cunning and panther-like in his movements. Amy excels in pulling this artistry from the dancers in order to tell Bram Stoker's story most vividly and passionately."
Ballet San Antonio will stage its four 2014-15 season productions at the Tobin Center. Following "Dracula," the company partners with the San Antonio Symphony to perform the only San Antonio "The Nutcracker" Nov. 28-Dec. 7. On Valentine's Day weekend, Ballet San Antonio and the Symphony collaborate again to stage "Romeo and Juliet" by award-winning choreographer Ben Stevenson. In March, the company will perform contemporary works, with a spotlight on "Donizetti Variations" by George Balanchine, founder of New York City Ballet.
"Our original works as well as the growing number of high-level artistic collaborations validate the strengths of this talented professional ballet company," Zertuche said.
Season tickets for all four Ballet San Antonio performances as well as individual tickets are available at the Tobin Center Box Office.
The mission of Ballet San Antonio is to share the splendor of dance through diverse artistic performances and outreach programs that reflect, promote, and enrich the cultural heritage of our South Texas community. We hold an uncompromising commitment to continually attract exceptional professional dancers, create distinctive performances, and make dance accessible to the widest possible audiences through partnerships with local organizations. Ballet San Antonio is a 501(c) 3 charitable organization.