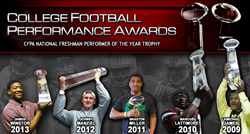 Charleston, SC (PRWEB) October 01, 2014
College Football Performance Awards (CFPA) announces the 2014 CFPA National Freshman Performer of the Year Trophy Watch List. The initial watch list includes thirty freshmen from the Football Bowl Subdivision. All players are eligible for awards at their respective positions; players are not preemptively eliminated from consideration.
The 2014 season marks the sixth year for the CFPA National Freshman Performer of the Year Trophy. Previous winners include: Jameis Winston (Florida State), Johnny Manziel (Texas A&M), Braxton Miller (Ohio State), Marcus Lattimore (South Carolina), and LaMichael James (Oregon).
Winston and Manziel, the two most recent winners of the award, also won the CFPA National Performer of the Year Trophy in 2013 and 2012, respectively.
2014 CFPA National Freshman Performer of the Year Trophy Watch List:
Anu Solomon (QB), Arizona
Nick Wilson (RB), Arizona
KD Cannon (WR), Baylor
Jon Hilliman (RB), Boston College
Roger Lewis (WR), Bowling Green
Artavis Scott (WR), Clemson
Deshaun Watson (QB), Clemson
Shaun Wilson (RB), Duke
Alex McGough (QB), FIU
Sony Michel (RB), Georgia
Mike Dudek (WR), Illinois
Garrett Johnson (WR), Kentucky
Leonard Fournette (RB), LSU
Brandon Harris (QB), LSU
Brad Kaaya (QB), Miami
J.T. Barrett (QB), Ohio State
Samaje Perine (RB), Oklahoma
Devon Allen (WR), Oregon
Royce Freeman (RB), Oregon
DaeSean Hamilton (WR), Penn State
Jalen Hurd (RB), Tennessee
Myles Garrett (DL), Texas A&M
Speedy Noil (WR), Texas A&M
Ricky Seals-Jones (WR), Texas A&M
Sherman Badie (RB), Tulane
JuJu Smith (WR), USC
Marlon Mack (RB), USF
Ralph Webb (RB), Vanderbilt
Isaiah Ford (WR), Virginia Tech
Jarvion Franklin (RB), Western Michigan
About College Football Performance Awards:
The goal of College Football Performance Awards is to provide the most scientifically rigorous conferments in college football. Recipients are selected exclusively based upon objective scientific rankings of the extent to which individual players increase the overall effectiveness of their teams.
As prominent scholars from a wide variety of disciplines note, CFPA eliminates the politics and biases that vitiate balloting-based awards. Furthermore, CFPA has received praise from both Republican and Democratic White House officials for promoting objectivity and fairness in college football.
CFPA is now in its seventh season of player and team performance recognition. Twenty-eight CFPA winners have been first-round NFL Draft selections.