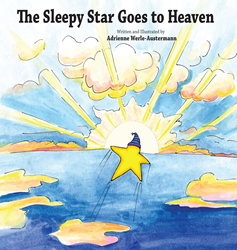 "This is exactly what I have felt in my heart!"
New York, NY (PRWEB) October 01, 2014
Written with the same rhyming verse and whimsical illustrations as the award-winning children's bedtime book The Sleepy Star; The Sleepy Star Goes to Heaven tackles the difficult subject of loss in a comforting and uplifting way for children and adults alike. Void of any specific religious affiliation, The Sleepy Star Goes to Heaven suggests an afterlife exists in a magical place that is "Filled with love and joy, and the gift of God's grace." The readers follow a brilliant little star named "Tom" who takes The Sleepy Star on an incredible dream journey. Tom's ability to connect and be with his family wherever they go, resonates with readers who also carry their loved ones in their hearts and minds daily.
The Sleepy Star books are available online at Barnesandnoble.com and Amazon.com.
(Hardcover $17.99) More information can be found at http://www.thesleepystar.com
About the author:
Ms. Werle-Austermann is an accomplished artist, writer and art educator. As a graduate of the School of Visual Arts in NYC, her career has crossed multiple disciplines which include graphic design, advertising art direction, writing, painting, and art education. She is an independent blogger for The Huffington Post and adds author and illustrator to her resume with the release of The Sleepy Star book series.
Members of the media who would like to review this book can request a complementary copy.