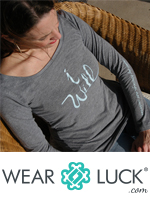 "We hope to become That New Year's Clothing Line! The one that changes forgotten resolutions into success.
Little Rock, Arkansas (PRWEB) September 30, 2014
Every New Year begins with a Resolution that will soon be forgotten. Goals, aspirations, wishes, dreams all worthy of 365 days of effort, however most are out of mind in 30. Why?
1. The goals are too vast or too vague. Instead of "spend more time with children", try something easy to do daily: Text less & Talk more.
2. Without a reminder, daily life gets in the way and efforts to improve are put on the back burner.
3. Goals out of sight equals goals out of mind.
Finally, there is a solution to remembering and achieving New Year's Resolution Goals. It's a cute, comfy, wearable reminder. Wear Luck inspires success through their "I Will" tops that keep New Year's Resolutions on the shirt sleeve of each garment, so they can be seen while typing, cooking & driving. Choose from popular resolutions: "I will text less, talk more", "I will make better bad decisions", "I will use less, recycle more" and others. The full line of ultra-soft tops are available at http://www.wearluck.com and better boutiques.
Wear Luck is a clothing line focused on helping women make positive changes in their lives.