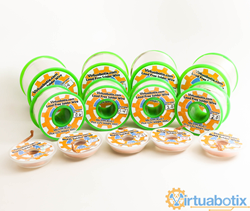 Could mean significant growth for Virtuabotix and its network of distributors
Colorado Springs, Colorado (PRWEB) September 29, 2014
Earlier this year, Virtuabotix quietly completed a distributor agreement and started launching products from PACE Worldwide, an electronics manufacturing equipment company based in North Carolina. The move culminated with this Friday's launch of the official Virtuabitx Lead Free Solder on Virtuabotix.com.
Up until this point Virtuabotix has kept its focus on electronic components, electronic kits, and robotic controllers, but the recent push of manufacturing equipment and industrial controllers may suggest a change in direction.
"Customers expect to find everything they need in one spot. We are just trying to better fulfill our customer needs," says Joseph Dattilo, Virtuabotix founder.
This is a huge change from the company's main line of embedded devices and sensors (like the Arduino&Raspberry Pi). A change which, according to Dattilo, "is only the next logical step" in the wake of their continued growth and the launch of over 200 new products this year alone.
Though the change may be a gamble, the announcement of the soon to be released line of Virtuabotix Solder Wick and more PACE Worldwide manufacturing equipment should come as no surprise given the company's current rate of product line expansion. That said, only time will tell if the changes will have a positive, long-term effect on their revenue and overall market share.
If the expansion into this new market is successful, it could mean significant growth for Virtuabotix and its network of distributors in the coming years. According to Manta.com, there are over 15,900 electronics companies in the United States alone, and as a worldwide online and distribution retailer, Virtuabotix.com stand to see a lot of growth by serving the well established and growing electronics industry.