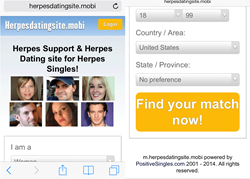 (PRWEB) September 30, 2014
Interacting with the media, a spokesperson for the website said, "Smartphones have become an integral part of our life. It is the need of the hour to give our users the convenience of staying connected round the clock. The launch of a mobile website would cater to the needs of those who wish to stay in touch with a potential partner or continue searching for one while on the move."
Since the launch of the iPhone in 2008, the smartphone segment has witnessed incredible growth. Affordable smartphones, in addition to cheaper data rates have made it possible for users to take advantage of dating apps and mobile web sites. This has also enabled dating services to reach out to a larger section of the audience.
In an exclusive interview with a magazine, dating expert Annabelle said, "It is essential for dating sites to provide seamless and uninterrupted services to its users. HerpesDatingSite.mobi does an incredible job by providing the same set of features on the mobile site as that available on the desktop version. And, that's not all. The service also allows new users to register from the mobile site."
Using the mobile site, members can exchange emails, send 'flirts' as well as e-greetings. Users can also keep a tab on the recent developments in the field of herpes dating, courtesy of the 'news' section. Members can avail special services of a dating counselor and learn about the best ways of making the most out of the service.