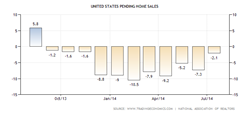 on a year-over-year basis pending home sales will probably increase.
Chicago, IL (PRWEB) September 29, 2014
Peoples Home Equity is awaiting the results of Monday, September 29ths pending home sales from the National Association of Realtors. The lenders expectations remain low despite the recent surprising surge in new home sales.
As shown on TradingEconomics.com the forecast for August pending home sales is a slight -0.5% to -0.68% decline. While the forecast is not confidence inspiring it is realistic and leaves much room for surprise. Pending home sales which are "existing homes where the contract has been signed but the transaction has not been closed" are expected to decline into the fall season. While August is not a fall month it is a late summer month where weekly sales remained below 2013 levels. Readers should keep their expectations low and remember pending home sales are made up of mostly existing homes sales (which declined in August) which have not fared as well as the dazzling 18% rise in new home sales posted this week. In addition, mortgage applications were roughly unchanged in August which any major push higher. On a positive note, despite an expected monthly decline, Peoples Home Equity thinks that on a year-over-year basis pending home sales will probably increase. In addition, a slight decline in sales may show the market is simply taking a healthy break from increasing 3.3% in July.
Peoples Home Equity reminds that regardless of Monday's pending home sales report, sales will fall in the fall and winter. Lawrence Yun, Chief Economist and Senior Vice President at the National Association of Realtors said in a September 2nd release "homes sales invariably decline in September from August. In the past 15 years, the average decline has been 16.4 percent. In October, home sales generally hold on." Readers should remember that the housing market is already under stress of low inventories causing home prices to move higher. This winter the housing market might active as many Americans may be hoping to snatch up properties at a lower price in hopes of a fall in demand or a further rise in mortgage rates. Peoples Home Equity thinks this is not a good strategy. Instead individuals should be ready to bid/purchase a desired home on demand regardless of how well the market is doing or data announcements like pending home sales. To get started the home loan pre-approval process visit PeoplesHomeEquity.com and enter into the "Home Loan Quick Qualifier" field, or contact a Peoples Home Equity loan officer today at: 262-563-4026