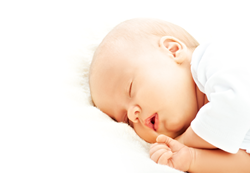 New York, NY (PRWEB) September 29, 2014
Sleep deprivation is amongst the roughest facets of parenthood. Some parents get lucky when there little one can slumber soundly from 7 am to 7 pm without a peep and takes consistent naps each day. For many parents, the perfect sleeping baby is far from reality. It's hard to perform if you're exhausted and consumed with stress. After Felicia brought her daughter home from the hospital she just assumed that like other babies she would fall asleep without much effort. "Soon enough I discovered that her sleeping pattern was haywire. I couldn't figure why the rockers, swings and other sleeping aids did little to help her fall asleep. After some research I found out about the Ferber Method."
So, what is the Ferber Method? According to Wikipedia "The Ferber Method is a technique invented by Dr. Richard Ferber to solve infant sleep problems. It involves "baby-training" children to self-soothe by allowing the child to cry for a predetermined amount of time before receiving external comfort. " To begin with, many parenting experts disagree with Ferber's age guidelines for crying out (3 months) claiming babies truly do not have the capability to recognize that Mom and Dad are merely in another room till the child is around a year-old. There has also been evidence that intense periods of crying can increase a baby's hypertension, heartbeat, and cortisol levels, a steroid hormone released when stress levels are heightened. There is also been debate surrounding heighten glucose levels.
Many pediatricians for instance Dr. Tanya Altmann, a California pediatrician and Dr. Marc Weissbluth disagree with Dr. Sears and the stance on crying it out. Sears states letting your baby cry for longer durations can stimulate stress hormones and inflict emotional damage to the brain. Dr. Altmann has denied any strong scientific evidence supporting this claim. So what's the verdict on Ferberizing? Search the web for the Ferber Method and you'll get countless results and testimonials on the technique.
"Before making a decision to sleep train your baby it's imperative to educate yourself. Eventually someone will discourage you and tell you it's disheartening and damaging to your child. You must read Dr. Ferber's book and understand the technique before making a blind statement. If you're going to follow the approach, it's important to be patient and understand that the Ferber Method takes time and is not for everyone." Felicia says, "My experience with the Ferber Method was difficult, but satisfactory. My daughter is now 8 months old and aside from the minimal fussing she sleeps through the night and takes her 2-3 hour nap once a day."
Felicia B is a full-time mom,wife and blogger by night. Mommylish.com is a website dedicated primarily to women 25-54 with children. The website covers such topics as style, beauty, DIY, health, physical fitness, family, pregnancy, money and nutrition.