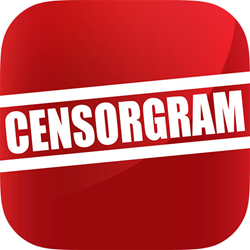 Negativity ends here.
Miami, FL (PRWEB) September 09, 2014
Instagram is the kind of service that has caught the imagination of people the world over and millions use it everyday as well as A List celebrities (Actors & Singers' names undisclosed). The idea of taking a picture or shooting a video from any of your mobile devices and quickly sharing it on all the popular social networking sites is quite fun.
Whilst the positive side of it is quite evident, the other side of the coin includes Cyber-Bullies, spammers, unsavoury, rude and sometimes even vulgar comments left by other Instagram users on your profile. This could also be detrimental to your social image and persona and has led to uncountable teen tragedies.
Censorgram's patented technology provides users with various options to filter spam and gross or distasteful remarks left by few distasteful users. Keywords, hashtags, and user IDs can be fed into the app memory to refine the comments. Users just have to log in with their Instagram account and password to use this app which is now available free to download on both Android and iOS platforms.
While the option of searching for such crude comments left by fellow users and manually deleting them off is still there, it could be time-consuming and quite a boring task to do. This is where Censorgram comes into play. Once the user keys in the particular keyword, the app will carry out instant search and automatically deletes all comments containing the typed word. You could also screen and/or ban the users based on they user-ID's and key hashtags to automatically deleting all comments coming in from that particular account. Both these features permit the app to edit the comments automatically and also lets it ban the user who comments using the stored keywords. This is a great way to ban individuals who offer deceiving "follow-me" requests that drive users away from your Instagram account. This could especially come in handy for companies and/or individuals with a large number of followers where social management and comment deletion & banning of users is uncontrollable.
While Censorgram is free to download from the respective app stores of Android and Apple, users can opt for optional in-app purchases. These in-app purchases include the ability to Scan Off-line, even when the user is not logged into Censorgram and Instagram or even if the user's phone is switched off. Apart from the offline scan, user who make in-app purchases also get the Scan Intervals & Notifications features.
The scan intervals feature allows Censorgram to automatically initiate scans at regular intervals based on the user's settings. So every time a scan is initiated, all the comments with the listed keywords and hashtags are automatically edited. The users are also given an option to outright ban those users based on their user IDs or hashtags if they're found to leave derogatory comments or are spamming quite often.
The scan results are notified to the users via push notifications or sent to the registered email address of the user as per preference. The Reporting tab does provide a readable graph of the Censorgram application results activity.
Not just offering protection against cyberbullies and creeps, this is also a great way to filter and prevent spam and "follow me" links that function as intrusions in your profile. The developers also believe that the app will benefit the parents of teens, who are the most vulnerable when it comes to protecting their privacy online. Concerned parents can now turn to Censorgram to make sure their kids indulge in their social activity appropriately without giving in to cyberbullying. AppSocial LLC believes that users have to be empowered by making it easier for them to exert control over their digital privacy and haul up their social accounts without falling prey to any nasty or deceitful individuals.
With a host of features being provided to the users, Censorgram's Anti Cyber Bully App is aimed at being a very handy app for all those who wish to have a vulgarity and spam-free social networking experience. Censorgram's patent will soon be extended for user-level censorship for other social media platforms including but not limited to Facebook, Twitter, YouTube and Google Plus within the central mobile console. The new interface and launch should be ready for download on the App Store and Google Play within weeks.
The app is now available for Instagram users to download for free from the Google play store as well as iOS App store. The app has optional in-app purchases. For more information on Censorgram, Contact Dan Rice regarding public relations at dan(at)goappsocial(dot)com.