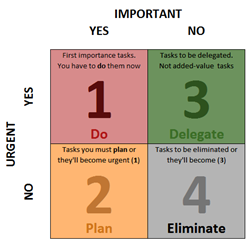 The problem with email is that most people tend to read messages indiscriminately rather than sorting out the high priority from the low priority ones. In fact, many are guilty of giving all emails irrespective of their importance or urgency equal weight
(PRWEB UK) 1 January 2014
"As most people struggle to get back to work after the Holiday Festivities, thoughts now turn to how we must use our work time more productively," observes Guru in a Bottle creator Ardi Kolah.
It's at this time of year that many will return to a bulging in-box even though they may have triggered the 'Out of Office' message!
"The problem with email is that most people tend to read messages indiscriminately rather than sorting out the high priority from the low priority ones. In fact, many are guilty of giving all emails irrespective of their importance or urgency equal weight in terms of our attention and tend to want to get through them as fast as possible. One reason is that many people have fallen into bad habits," says Kolah.
Former US President Dwight D. Eisenhower is reported to have said "The most urgent decisions are rarely the most important ones." Eisenhower was considered a master of time management and possessed that rare gift of being able to do everything as and when it needed to be done.
So a good New Year's Resolution is to work the Eisenhower way! The key is to distinguish between what's important and what's urgent.
"My tip is whatever the job that lands on your desk on your first week back at work, begin by breaking it down according to the Eisenhower method and then decide how to proceed.
"We tend to focus too strongly on the urgent and important field, on the things that have to be dealt with immediately. Resist the temptation to do this.
Stop and ask yourself: 'When will I deal with the things that are important, but not urgent? When will I take time to deal with important tasks before they become urgent?' This is the field for strategic, long-term decisions," says Kolah.
Another method of organising time better is attributed to billionaire Warren Buffett who made a list of everything he wanted to get done, day-by-day.
"So go on, what are you waiting for? Begin the New Year as you mean to go on.
Start with a task at the top of the list and continue only when you've completed it. When a task has been completed, cross it off the list. Better late than never, although never late is better," concludes Kolah.