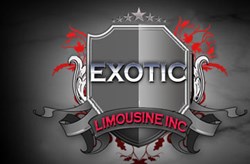 Adequate planning and proper execution are required to make a wedding day memorable.
California, Ca (PRWEB) January 31, 2014
Exotic Limousine Inc., a premier San Francisco, Sacramento, and Los Angeles limousine provider, announces the launch of their custom wedding limo service packages for California. "We will offer a lot more than just limo service to our customers. The customer can call our agents and organize their complete wedding. We have teamed up with some of the best wedding planners to offer decoration items, crockery, DJ services, catering etc...", said Moe Kakar, manager at Exotic Limousine. The company will start accepting bookings for these custom wedding packages starting the first week of March, 2014.
When it comes to celebrating the special occasions like weddings, transportation can be very stressful. However, the staff at Exotic Limousine will guide you in arranging the best transport package for your needs. "Adequate planning and proper execution are required to make a wedding day memorable. We have years of experience in providing luxury transportation services to the customers across the United States. We manage a large fleet of diverse vehicles that includes renowned limos to serve our customers in the best way. We offer dedicated wedding limo service to our customers and make sure that they experience the utmost comfort. Our chauffeurs are trained professionals; they know what it takes to make a wedding transportation comfortable and convenient for the passengers." – said Ruben, the CEO of the company.
After successfully serving major cities like Sacramento, San Francisco, and Napa, Exotic Limos will now be offer their services in the Southern California. The Southern California customers can also rent the most-appropriate limo or Los Ageles Party Bus, according to their wedding theme and requirement on their brand new limo fleet. "Wide range of limos that includes Rolls Limo, Hummer Limo, Escalade limo, Range Rover stretch, Lincoln stretch limo and Chrysler 300 stretch will be offered. Our So-Cal limos will have elegant exterior and enchanting color scheme to complete the weddings. The customers will find many exciting features in our limos like custom leather interior, which provide much-needed comfort during the travel. The features like flat-screen TVs, iPod hookup, DVD player, and surround-sound system will be some of the standard features available in the limos for the entertainment. The stainless steel starlight headliner and LED decorative lighting are incorporated in the limo for the pleasant interior ambiance," said Kakar.
Chauffeurs are meticulously trained by the company to provide the VIP service and assistance to the passengers. "Our chauffeurs have the knowledge of the local area to make commuting convenient for the passengers. Our chauffeurs can also provide the assistance in finding the best hotels and restaurants," said Ruben. To book a wedding limo or party buses in California, the customer can browse through Exotic Limousine's website or speak to the customer care executive. For more information about their services visit their website at http://www.exoticlimocal.com.