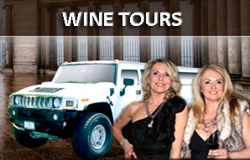 Whether the customer is looking for the perfect romantic evening or weekend getaway, the wine tours are ideal.
(PRWEB) January 18, 2014
Empire Limousine, a Sacramento based limousine and bus company, is proud to announce its new custom wine tours to Amador county, El Dorado county, and Napa-Sonoma from Sacramento and the Bay-Area. The Sacramento wine tour packages will include exploring the famous wine regions and some of the finest restaurants across the wine country in Northern California. Empire Limousine will start booking these tours in the first week of February, 2014. The wine tours can be reserved up to six months in advance.
"We are pleased to announce our new wine tour packages. Visiting wineries and vineyards is an impeccable experience for many customers. Our wine tour packages are compiled specially for the food and wine enthusiasts. Whether the customer is looking for the perfect romantic night or a weekend getaway, our wine tours are ideal choice. Our staff has worked hard to establish good relationship with local wineries owners; as a result, our customers will get the VIP treatment at the best wineries in Napa-Sonoma, Livermore Valley, El Dorado County, Plymouth, and Amador county. We are looking forward to serve the customers in the best way," said Moninder Singh, the manager of Empire Limousine.
The Empire Limousine wine tours will also include the optional lunch or dinner option at some of the finest restaurants in the world like French Laundry in Napa and Restaurant Taste in Amador county. "Our customers will be given a special treatment; chefs at the restaurants will give our customers a tour of their kitchen and show them how the food is cooked", said Mike, marketing manager of Empire Limousine. Mud bath in Napa-Sonoma, picnic in some of the most picturesque landscapes of the wine country, hot air balloon rides in Napa and much more can be included as optionals in the wine tours. Our job is to provide the most memorable experience for our customer," said Mike.
The chauffeurs at Empire Limousine are meticulously trained to be professional and drive some of the best vehicles in the world on hilly terrain of the wine country. "Chauffeurs are given proper training to teach them the long list of features in the limos like karaoke machines, satellite TV, laser light shows, DVD players, and much more... Drivers aid our customers in operating these complex features in the limo so that the customers can be fully entertained", said Singh. Empire Limousine will offer their latest updated fleet to provide transportation for the wine tours. Escalade, Hummer Limousine, Rolls Royce Limousine, Chrysler 300 Stretch, and Lincoln Limousine will be offered for wine tours for up to 20 passengers. The bigger parties, up to 55 passengers, can be accommodated in Sacramento party buses and charter buses. For booking these custom wine tours, the customers can call the 24/7 reservation specialists or visit http//http://www.limousine-sacramento.com.