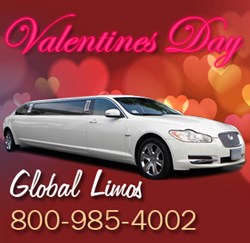 The new Escalade Limo is reportedly much fancier and luxurious than any other limos.
(PRWEB) January 13, 2014
The most anticipated new 2015 Escalade limo will become a part of Global Limos fleet in March, 2014. The company has a reputation of offering the best ground transportation solutions to its customers. The company manages a large fleet that includes limousines and party buses. The newest addition of Escalade limo in their fleet will give them an edge over other limousine service providers.
The new Escalade Limo is reportedly much fancier, and luxurious than any other limos. It has state-of-the-art technologies like Gull Wing door, decorative lighting, strobe lights and phantom grill. The interior of the limo has more leg room, shoulder room and hip room than its previous model. The new specially designed leather seats by master craftsmen of Cadillac promise to provide the much-needed comfort for the passengers. The customers will find many high-end features such as Flat-Screen TVs, MP3 player, DVD player, iPod hookup, blue-tooth audio streaming, and powerful stereo in the limo. The accessible rear controls, large ice coolers and smoke machine are available in the limo for the additional benefits.
"We are excited to introduce the new 2015 Escalade Limo to our customers. It is not just a simple limo; it is more like a mini nightclub with the disco floor and ceiling to provide the enchanting ambiance to complement the party mood. In terms of technology, the customers will find it amusing and enthralling. We have always believed in the philosophy of providing the cutting-edge technology to our clients. We are sure that the new Escalade Limo will become the hottest limo in our fleet." – said Ruben, a manager of Global Limos.
This new limo can be used for a variety of chauffeur-driven limousine services like wine tour, night on the town, casino tours, airport transportation, corporate travels, concerts, and sports events. This luxury SUV will be a great choice for ground transport for the weddings, birthday parties, bachelor parties and proms. "The company chauffeurs will be trained to provide customer with information about the super sophisticated features of this new luxury SUV", said Moe Kakar, CEO of the company.
The staff members of the company are polite and always ready to assist the customers in renting the most appropriate vehicle. The company has a website that provides complete information about this new SUV and all available fleet. To find more information on the new 2015 Escalade limo, the customers can visit: http://www.globallimos.com.