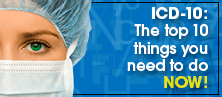 At least I have a starting point!
Plano, TX (PRWEB) January 31, 2014
The deadline for the implementation of ICD-10 less than a year away and the number of codes a physician must use to diagnose a patient for any and every visit will jump from 13,000 codes (ICD-9) to over 68,000 codes (ICD-10). All health care providers are mandated by law to upgrade to the ICD-10 codes on October 1, 2014, but an astounding one-third of practices haven't even begun the process.
The general lack of readiness for medical billing and coding changes from ICD-10 and physician resistance to implementation is creating delays. Many physicians are unsure where to begin preparations for ICD-10, but there is not much more room for procrastination if providers want to be on track to meet the compliance deadline on Oct. 1, 2014. However, there are 10 Things To Do Now To Prepare for ICD-10.
Although ICD-10 represents a major challenge for providers, payers and health information technology (HIT) vendors, there are small steps physicians can take to make the transition as smooth as possible. One of the primary concerns for physicians is disruptions to workflow, and unless coding staff are adequately prepared, providers may be interrupted by coder questions, according to HIT Consultant.
Many physicians are worried about the complexity of the new diagnostic coding system compared to ICD-9, but in many cases, doctor training can be customized to their specialties. Physicians do not need to learn every code in ICD-10, but the ones for their most frequent diagnoses will be important.
Where can physicians start to prepare for ICD-10? A free eBook is available here.