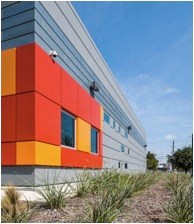 Houston, TX (PRWEB) January 14, 2014
Metal panels have been used for many years but are still considered relatively new compared to traditional materials like masonry and concrete. Innovations to further improve performance of metal panels are constantly being introduced into the market. Wade Architectural Systems (WAS) has been an architectural leader in the Texas market for over 25 years, and is continuing that tradition by now offering metal panels from Centria, Dri-Design, and VMZINC to provide superior results for its clients.
While there are many materials that can be used to complete the exterior building envelope, the new metal panels offered by Wade Architectural Systems are a popular choice as they are durable and affordable. New panels from Wade Architectural Systems may be formed from coil or sheet of a variety of sustainable and attractive metals options, including zinc, copper, steel, and aluminum. Each metal has unique benefits and appearance, most of which are available in a wide variety of profile and color options. Wade Architectural Systems now offers these attractive and practical metal panels to its clients.
Enhanced Variety of Panel Systems Options
In addition to the different material options available, these new panel systems also are available in many metal panel types and profiles, including single-skin panels (having no back-up material), insulated metal panels, and metal composite panels. It is important to understand the benefits and limitations of each panel type for the architectural team and owner to select the appropriate system to comply with building codes, performance aspects, aesthetics and project budget. Even if the design team is unfamiliar with these metal paneling options, Wade Architectural Systems can assist the design team in identifying the most appropriate options and even offer continuing education courses registered with AIA/CES.
Wade Architectural Systems is an excellent resource for project teams to contact when architectural metal panels are being considered on both existing and new building projects. WAS is a highly reputable company that provides a recently expanded excellent selection of metal panels from which to choose. The team at Wade Architectural Systems is dedicated to excellence from start to finish throughout the design, bidding, construction and closeout processes. The team will help each of its clients to understand the pros and cons of the different materials available and will how different materials, finishes and systems will affect the total project cost.
About
Wade Architectural Systems offers complete solutions and expertise in exterior metals to design and construction teams throughout Texas and Oklahoma. In addition to providing assistance during design, budgetary pricing and installer training, WAS also offers complete materials packages to contractors including training, shop drawings and engineered calculations. Individuals who are interested in learning more about the new exterior metal systems options available through Wade Architectural Systems can contact the company directly by phone at (800) 950-4544.