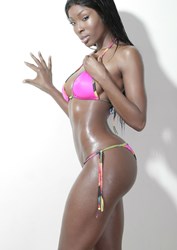 As a holistic nutritionist, I look for value in the products that I use. I only use the healthiest and the very best when it comes to my body. Honestly, it's hard to find supplements with all-natural ingredients and that are stimulant-free. - Tanyka Renee
Hollywood, CA (PRWEB) January 09, 2014
Tanyka Renee is the perfect woman to represent the Moriche Lifestyle, because she lives it everyday. What is the Moriche Lifestyle, you ask? "It's a term that was developed to describe the values and day-to-day activities of our customers" explains Herbal Tropics CEO, Alexa Cruz. She goes on to elaborate on exactly what those values and activities are; "Our customers strive to be healthy and curvaceous, they diet to be fit not to lose weight, they eat healthy, work out to sculpt their curves, and utilize our products to be trim yet voluptuous. Basically, they like to stay active and embrace life as well as their curves.
So, what is sexy star Tanyka Renee up to these days? Well, she's motivating others to keep a sexy and fit body like hers. The former Playmate turned holistic nutritionist has recently teamed up with Herbal Tropics to promote a brand new line of nutritional products called the Moriche Palm Diet.
The Brazilian diet, recognized for promoting natural slimming benefits along with body contouring, has become quite popular amongst many celebs. Sexy models like former video vixen Rosa Acosta and celebrity apprentice star Claudia Jordan, just to name a few, have all enjoyed the body shaping benefits of the Brazilian diet. "Today, it seems like every woman wants to have some kind of curve appeal to her shape; after all, nobody wants to be simply skinny anymore," says celebrity fitness trainer Dominica Westling a.k.a. Booty by Dom. The diet is perfect for that urban LA/Miami Beach scene that promotes the culture for bombshell bodies and sexy hourglass figures.
It's not a question whether the Moriche Palm Diet will rank high amongst other leading diets on the market today for its natural slimming and shaping benefits, but the diet also offers a natural stimulant and caffeine-free formula, making it a safer choice for weight management.